Russia to invest $1.5bn in Ecuador energy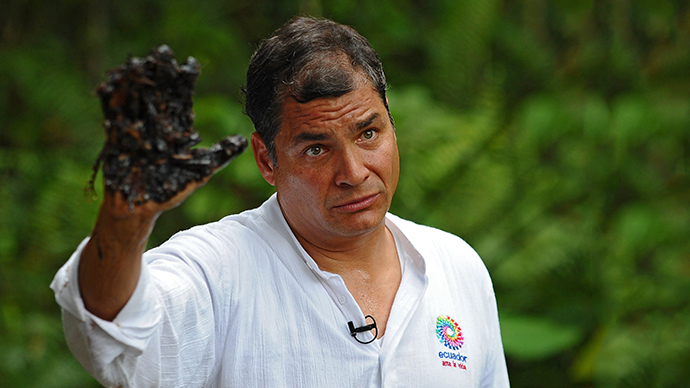 Russia plans to invest up to $1.5 billion into new domestic energy projects in Ecuador, making the South American country a key partner in the region, President Vladimir Putin said at a meeting with Ecuadorian President Rafael Correa in Moscow.
The two countries have several ongoing energy projects, including state-owned Gazprom's alliance with Ecuador's state-run oil company Petroamazonas. The Latin American country hopes to buy less and less oil and gas from abroad, and to develop its own natural gas reserves and become more energy self-sufficient.

The smallest oil producer in the Organization of the Petroleum Exporting Countries (OPEC), has proven oil reserves of 8 billion barrels, about 1 percent of the world's total. Ecuador exports roughly 500,000 barrels per day.
Ecuador will open up its hydrocarbon resources to Russia's state-owned companies Gazprom and Rosneft in cooperation with Ecuador state run Rosegelogia. Both company's CEOs were present at the meeting between Correa and Putin at the Kremlin on Tuesday.

"Of course we are interested in the participation of Gazprom, as it is the largest gas company in the world," Correa said.

Currently, Russian companies are taking part in other energy projects. Roseximbank, Russia's state-owned  import-export bank ,agreed to loan $195 million to finance a thermoelectric plant which will be built by Russian firm Inter Rao, and is expected to begin operations in 2016.

Russian and Ecuador signed another $1.2 billion agreement to finance two hydroelectric plants. In 2011, Roseximbank loaned Ecuador $123 million to build two hydroelectric plants which are due to open in 2015.

Correa also said Ecuador is interested in buying Russian military equipment in the form of helicopters and trucks.

Ecuador and Russia have been strategic economic partners, and trade between the countries reached a record $1.3 billion in 2012.

Russia imported about $1.2 billion in bananas, seafood, and flowers from the country. Ecuador imported roughly $116 million in medical equipment, mineral fertilizers, and paper from Russia.

The Ecuadorian President plans to visit Moscow's Skolkovo start-up hub on Wednesday. While in St. Petersburg on Monday, Correa invited the city's scientists to visit Ecuador and help contribute to a new science city that will specialize in bio and nanotechnologies, information systems, and textiles.

The Ecuadorian president will also stop in Belarus and France.

Venezuela's neighbor

Correa has ramped up oil output since 2010, when all joint-venture partners were forced to become service contractors as well.

Last year, Ecuador signed a memorandum agreement with Gazprom to explore drilling opportunities in the muddy natural gas field in the Gulf of Guayaquil. The gas giant has also been involved in exploration in the Urumaco blocks, which have reserves of about 100 billion cubic meters.

Last year Correa authorized oil drilling in the Amazon rainforest, at Yasuni National Park.

Rosneft already has a joint venture with Ecuador's more much oil rich neighbor Venezuela. Rosneft partnered with PDVSA, the country's market dominating national oil company. Russian companies are already involved in 5 oil projects in Venezuela, the world's fifth largest oil exporter, with proven reserve of almost 300 billion barrels, by BP statistics.
CEO Igor Sechin frequently visits Venezuela, and plans to invest $10 billion in oil and gas projects.

You can share this story on social media: