Russia needs a free market economy, rather than 'cowboy capitalism' – Putin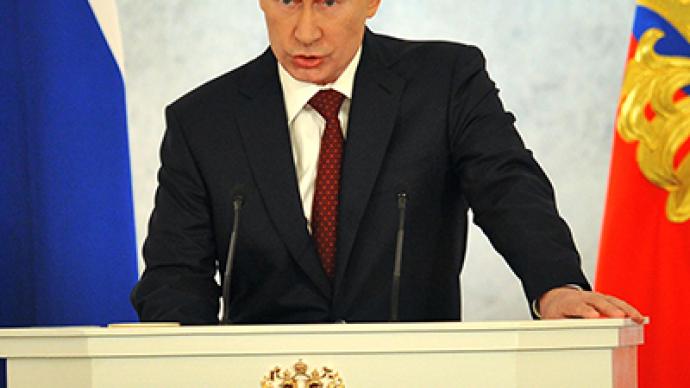 Russia needs to develop a free market economy based on industry and middle size business as the growth potential of a resource based economy is exhausted, President Vladimir Putin said.
"The situation when the Russian budget depends on foreign financial and commodity markets is unacceptable," Putin said during his annual address to the Federal Assembly. Most people can't fulfil their potential and realize their talents under such conditions, he added."It's important to return the country to a leading position in key industries and in middle business," Putin stressed. He asked the government to prepare "road maps" for accelerated development of high-tech branches of the economy such as biotechnologies, rare earth metals, gene engineering, urban building and IT. "Russia needs a "modern market economy, not 'cowboy capitalism,'" Putin added. The measures are crucial for the Russian economy to achieve a 6% growth target, according to President Putin.Putin also asked the government to draft proposals on scaling down the role of offshore companies in the Russian economy to fight capital outflow. "We need a whole system of measures to 'de-offshore' the economy. And I'm asking the government to submit a set of proposals on this," he said.The capital flight from Russia is expected to be at  $75 billion, far beyond the forecast of the Central Bank, according to the Ministry of Economic Development. Capital flight has more than doubled since 2010. The poor investment climate and corruption are usually considered the main causes for the lower investment attractiveness of Russia.Putin added that the government should lead the way providing privatization deals on the Russian exchange under national jurisdiction. Currently, about nine out of ten deals being struck are not controlled by the state law, the President warned.Fighting corruption in the economy is another major concern for Russian authorities as "state purchase contracts became a good environment for corruption", Putin stressed. Among proposed measures to fight corruption is speeding up the adoption of the law on the federal contract system. President also urged to improve audit checks of state purchases.But fighting corruption isn't the only way to improve the investment attractiveness of Russia, business itself should contribute to benefit the country, Putin stressed. "The business community should strive for its own success and for its country as well." The President has called on the government to implement the basic decisions on the luxury tax in the first half of 2013."We can and should levy additional taxes on so-called prestigious, demonstrative consumption… including elite real estate and,  no matter how hard  it is, expensive cars,  even new, as early as the first half of 2013," Putin said.