Russia's economy: Best of 2012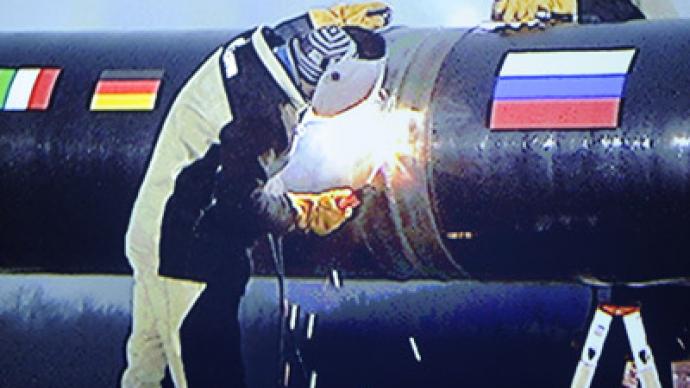 With the New Year started this week, RT recalls the events that that made up the turbulent business year of 2012 from the opening of South Stream to the TNK-Rosneft deal, from fiscal challenges to high profile court decisions.
Driven by consumer activity, service sector expansion, energy sector development and some manufacturing gains the Russian economy expanded about 3.5% this year, in line with expectations. "Headline growth will be close to that expected at the start of the year, i.e. between 3.5%-4.0%, meaning that Russian growth is relatively good in the EM asset class and better than DM economies," Chris Weafer, chief analyst at Troika Dialog told RT.
WTO
In August Russia officially joined the World Trade Organization, finalizing a 19-year-long process of negotiations. Though the move is expected to benefit Russian consumers through reduced prices and add about 4% to GDP, the accession was expected to damage Russia's most vulnerable industries – like automotive, agriculture, forestry and light industry. The government plans to spend more than $1.47bn in 2013 – 2015 to back the fragile industries. Russian Minister of Economic Development Andrey Belousov revealed Russia is expected to lose up to 445 billion roubles over two years due to reduced import duties with competing industries facing shortfalls. However, the losses will be balanced by increased trade, the minister pledged. The opposition to joining WTO was on the rise in 2012. Leftists held rallies in Moscow and other Russian cities against Russia's joining the WTO, while polls revealed that only 39% of the population welcomed Russia's WTO membership, compared to 59% in May 2003.
A number of major deals and opening of ambitious projects boosted Russia's energy sector this year.
Rosneft becomes world's largest oil-producing company
In October 2012 Rosneft agreed with BP and a quartet of Soviet-born billionaires who make up the Alfa Access Renova (AAR) consortium- the two major shareholders of British oil venture TNK-BP – to buy 100% of the company. The deal is worth a total cost of $55 billion, with $45 billion needed to be raised in cash, and the remainder coming in form of 12.84% of Rosneft treasury notes, and is one of the most valuable in Russian history.As the purchase is completed Rosneft will become the world's largest energy company in terms of liquid hydrocarbons extraction, as well as the third largest by estimated net profit at $21.46bn, lagging behind $41.06bn of Exxon Mobil and $26.9 of Chevron, as calculated by RBC.
Russia expands energy transportation systems
In December Russia's state-owned gas major Gazprom and its partners kicked off construction of the South Stream pipeline that will run under the Black Sea to Southern Europe, rivaling the Nabucco project. Gazprom teamed up with Italy's ENI, France's EDF and Germany's BASF to build a 990 km pipeline to carry 63 billion cubic meters (bcm) of natural gas to European consumers. The project is estimated to cost about 16bn euro, while the supply of natural gas to Europe is expected to start in the first quarter of 2016.In October the second stretch of Nord Stream gas pipeline, linking Russia and Germany, started operation, doubling Nord Stream's capacity to 55bcm per year. The first Nord Stream pipeline with an annual capacity of 27.5bcm began operating in November 2011, starting the first direct supplies from Russia to an estimated 26 million homes in the EU.The 7.4bn euro project was designed to provide direct gas supply to the European market avoiding transit countries such as Belarus and Ukraine. Besides economic benefits from direct supplies the project has also contributed to international relations, according to experts.
EU takes against Russia's Gazprom policies
In September the European Commission launched an anti-trust probe against Russia's gas major Gazprom over alleged unfair competition and price fixing in the natural gas markets of Central and Eastern Europe. If Gazprom is found to have broken the rules it could be fined 10% its annual revenue or $1.1-1.4bn. Gazprom didn't admit any wrongdoing, but launched reforms to divide its European assets to meet the requirements of EU's "third energy package" and avoid anti-trust claims.Meanwhile Russian President Vladimir Putin has signed a decree that prohibits companies deemed strategic from disclosing information, disposing of assets or amending agreements without Russian authorities' ratification in the case that the claims are initiated by foreign states or entities.
Arctic tax relief
In December Russian authorities agreed on unprecedented tax breaks for new projects in the Arctic shelf to boost investment in the area. The new tax breaks are expected to come into force by the end of this year.Under the new legislation operators of shelf projects will be exempt from taxes for 5 to 15 years, including tax breaks on export duties as well as import duty and VAT on purchased equipment. The same tax policy will be applied to oil projects, launched from 2016."We managed to come to an agreement with the Ministry of Energy and with the Ministry of Economic Development. We settled all the differences and agreed how the new legislation will work," Deputy Minister of Finance Sergey Shatalov said in a statement.The step brought results even before it has been implemented. Earlier this year Russia's Rosneft and international oil giants such as US-based ExxonMobil, Italy's ENI and Norway's Statoil signed several deals on joint development of Arctic shelf. Under the deal foreign majors take a minor stake of 30% in the joint project and pay up-front investment costs. The total cost of operations in Russia's Arctic shelf might reach $400 billion.
Sberbank SPO
Russian banking saw some big deals in 2012, when the Sberbank secondary public offering (SPO) marked the largest privatization deal in Russia, as well as the biggest SPO in the EMEA region in 2011 – 2012 and one of the largest in the world. The country's biggest lender saw a 7.6% stake going private, as the Central Bank of Russia (CBR) sold the share in the autumn in the framework of a SPO. The deal came as a part of the country's multi-billion-dollar privatization program. With the SPO Sberbank aimed to "diversify the investor base and secure an international stock exchange listing," according to CEO Herman Gref in September. In another part of its expansion strategy, in February Sberbank completed a landmark purchase of the East European assets of Austria's Volksbank, which became the first lender's acquisition outside the CIS. Despite being a problem asset with huge losses at the time of the sale, "Sberbank should have enough financial and labor resources to get profitable business going within the planned terms," Investcafe analysts commented. In September, Sberbank finished the biggest deal in its 170 history by acquiring one of Turkey's biggest lenders Denizbank for about $3.87bln"Further on, in the next 2-3 years we are not planning any new international acquisitions in the core banking space. And we need to integrate what we've purchased, to make sure the competitive advantage that's so strong domestically for us become applicable in the countries we've just made an entrance," Anton Karamzin, deputy head of board, told RT.
MegaFon IPO
In November Russia's second-largest mobile-phone operator MegaFon raised $1.7bn from its 15% stock sale in the country's biggest London IPO in the last three years.The MegaFon IPO is part of a shareholder agreement reached in April between Alisher Usmanov, Russia's richest man, the Sweden- based telecoms operator TeliaSonera AB, which owns 43.8% stake and the operator's local owners. In terms of the deal, Usmanov gets a controlling stake of the Moscow-based operator, boosting his stake form 8% to more than 50%.
Berezovsky loses $5.6bn to Abramovich
In August a UK court ended a $5.6 billion lawsuit filed against Russian billionaire Roman Abramovich by his former partner Boris Berezovsky, closing one of the most expensive cases in British legal history. The defeat has reportedly brought Berzovsky at the brink of bankruptcy as he faces a £40mn bill for legal costs, and a £200mn debt.
Oligarch battle over Norilsk Nickel ends
In December Russian billionaires Vladimir Potanin and Oleg Deripaska reached a new shareholder agreement, bringing to the end a $1.4bn dispute over rights at Norilsk Nickel before it went to a London court.Under the deal, Potanin was named Norilsk's General Director instead of Vladimir Strzhalkovsky. The former Norilsk Nickel CEO got record $100mn golden handshake. Currently Potanin owns a 28% stake in Norilsk through his Interros Holding and Deripaska has 25% through aluminum producer Rusal PLC. Millhouse Capital owned by billionaire Roman Abramovich purchased a 7.3% stake in Norilsk Nickel worth about $2 billion in a bid to settle a four-year battle between Deripaska and Potanin. The Russian tycoons have been fighting since 2008, when Deripaska bought a 25% stake in Norilsk Nickel from Potanin's former business partner, Mikhail Prokhorov. Rusal claimed that Potanin violated its rights to board representation and demanded $1.4bn compensation
Usmanov – Russia's billionaire of the year
Russia's billionaire Alisher Usmanov became the only Russian who kept his place in Bloomberg's top 40 rating of the wealthiest businessmen of the world. With his $18.7 billion Usmanov has 37th place on the list.
Avtovaz car maker partners with Renault-Nissan
In December Renault-Nissan and the state run Russian Technologies Corporation signed an agreement to create a joint venture that will get a majority stake in Russian car maker Avtovaz. The deal comes six months after a $525 million assembly complex in Avtovaz's Togliatti factory was opened. With the new facilities, the factory has a capacity to produce more than 1 million cars per year. Avtovaz has already started production of Nissan Almera models, but the newly created alliance also plans to strengthen production of new range of Russian Lada cars.
You can share this story on social media: