Summer start for fund to entice global investors to Russia
Published time: 18 Apr, 2011 11:25
Edited time: 18 Apr, 2011 17:15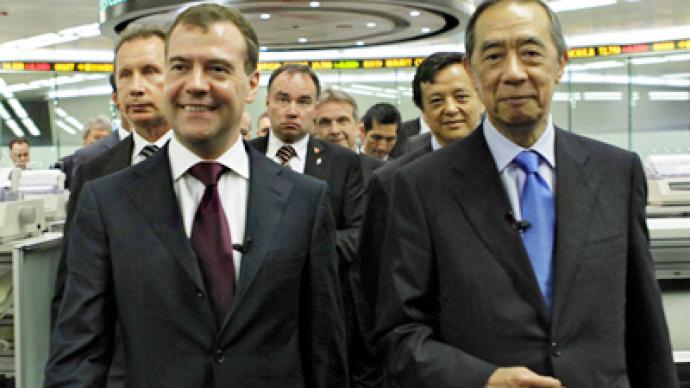 A new sovereign fund, to be created at the start of the summer, is planned to have a volume of $10 billion in 5 years and its profitability expected to be at about 15-20%.
Russian President, Dmitry Medvedev, speaking with business people in Hong Kong, noted that the move was an integral part of the country's new economic course.
"A direct investment fund will already be in place at the start of the summer. It will co-financecapital investment of foreign fundsand companies in Russian projects."
The President added that global investment into Russia, which the fund is intended to promote, is a key part of Russia's economic modernisation
"Modern Russia is carrying out a plan for modernization and innovation development. Foreign investment plays a special role in this process."
The new fund will be set up as a non – public mutual fund and will be a 100% subsidiary of Vnesheconombank, with Vladimir Dmitriev, head of VEB, saying around $2 billion annually would be channelled into it.
"This way we plan to form the fund of $10 billion on its Russian part in 5 years."
He also said that each rouble invested from the fund will match an additional 5 roubles from foreign investors, adding that particular investment tools are still being under agreement process.
"As for the instruments, we'll agree those with the Ministry of Finance. These might be the bonds of international organizations, assets of reliable companies."
However, according to Dmitriev, there are already some particular offers for certain Russian industries, with energy, agriculture, food and pharma sectors being of the most interest.
Earlier Russian Vice President and the Minister of Finance, Aleksey Kudrin,said that some money – extra oil revenues – might go to the fund. But to avoid inflationary pressure Vnesheconombank is supposed to place these assets into foreign assets before investing them into particular projects.
Russian authorities plan to create regional commissionson investmentissues, expandingthe rights ofminority shareholdersand improvelegislative stimulusfor foreign investment in several strategic sectors.Speaking in Hong Kong President Medvedev also added that a simplified review process for regulatory decisions affecting entrepreneurs would be implemented.
Presidential Advisor ArkadyDvorkovich told journalists that the fund will be started after the necessary legal documents are ready by June 1.
"A set of documents is still being put together that is necessary for creating the fund. This also concerns formal documentation and internal documents on investment declarations, as well as the risk and general management of the fund."