Russian banks borrow record $61bn from Central Bank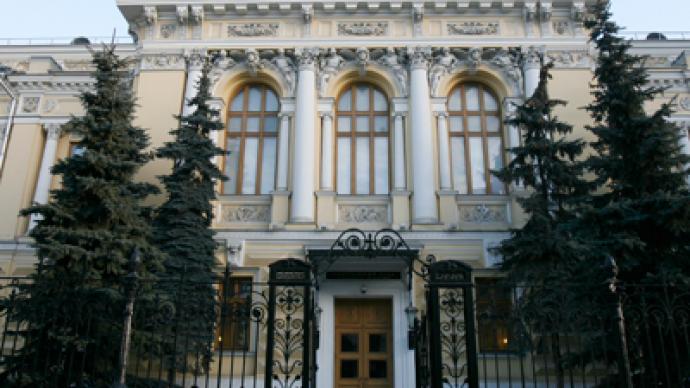 Russian banks borrowed a record 1.9trln roubles ($61 billion) from the Central Bank of Russia during an auction aimed to boost the liquidity level of the country's lenders.
On Tuesday the CBR provided 2.63trln roubles – the largest amount since 2009 – to the banks at the auction, Vedomosti daily reported. Russia's banks are struggling for funds to finance a 40% surge in consumer credit this year amid a slowdown in deposits, as the government has kept money out of the economy by running a budget surplus. Borrowings from the central bank through repurchase auctions quadrupled this year to 1.9 trillion roubles ($61 billion), according to Raiffeisenbank, and they are likely to reach 2-2.2trln roubles by the end of the year. "First of all, borrowing from the CBR grew due to the liquidity gap, related to budget spending. It happens every year, but this year delays in budget payments are bigger than usual," Ivan Kabulaev, chief executive of Investcafe told RT."Besides that, rumor has it that one of the major market players faces problems and the CBR could provide funds to it," he added. "It puts the stability of Russian banking under question".Meanwhile, the interbank rates continue to surge as upcoming VAT payments adds to the liquidity problems, VTB Capital analysts say. Last night the Mosprime overnight interbank rate decreased to 6.48% from 6.52% on Monday, but is likely to stay at the current level through to the end of the year.However, the CBR Deputy Chairman says there are no risks to Russian banking as the government is expected to spend 2.35trln roubles or 18% of the budget spending in December. He expects that the amount of borrowing through repurchasing auctions would decrease to 200-300bln roubles in January.Earlier this month German Gref, the CEO of Sberbank, Russia's biggest lender, urged the CBR to provide more funding to banks to bring down the highest interbank rates in three years. "Russia's banking sector is clearly experiencing a liquidity shortfall," Gref said. "In my view, the ways to present liquidity need to be changed. New instruments are needed."Andrey Kostin, head of VTB Group, the country's second-largest lender, also voiced concern over surging rates as he urged that Russia should provide three-year loans to banks as the European Central Bank did.
You can share this story on social media: