Russian billionaire tops NY real estate market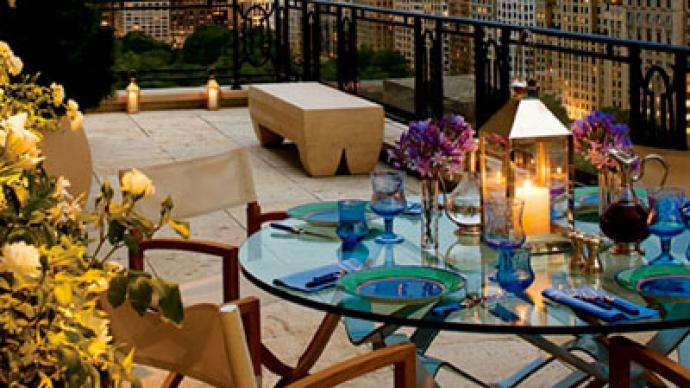 A Russian billionaire is spending $88 mln on the most expensive apartment in New York. With that kind of money Dmitry Rybolovlev could have bought an average family home in the Mid-West with the money he paid of each of the flat's 625 square meters.
The apartment at 15 Central Park West boasts four bedrooms, a gallery, bar, library and a hugewrap-around terrace giving views of the New York skyline and Central Park. The sellers are former Citigroup CEO Sandy Weill and his wife Joan who bought the apartment for $42.4 million, breaking property market records of the time. When put up for sale Mr. Weill said there would be no negotiation on the $88 million price tag, and the proceeds would be donated to charity. Experts doubted somebody would pay such a price. But that's probably they didn't reckon on Dmitry Rybolovlev, the former owner of one the Russia's largest potash fertilizer concerns, Uralkali. It will be his second most expensive property deal in USA as he has already bought Donald Trump's villa in Palm Beach Florida for $100 million.
Mr Rybolovlev is the 93rd richest person in the world with a net worth around $9.5 billion, according to the Forbes magazine. In 2010 he gained control of Bank of Cyprus. Now Mr Rybolovlev is in the midst of bitter divorce that could cost him $6 billion. Super-rich Russians have become steady buyers of luxury real estate in USA. This year Russian composer Igor Crutoy set a record for a condominium in New York as he bought a flat at the Plaza Hotel for $48 million. Yuri Milner, founder of Moscow-based DST, which invests in Internet companies including Facebook Inc., Twitter Inc. and Groupon Inc., paid $100 million for a 2,370-square-meter mansion in Los Altos Hills, California. Owner of Russian Standard Bank and Russian Standard Vodka, Roustam Tariko has closed the most expensive home purchase in Miami Beach since 2006 when he bought a $25.5 million estate in April 2011. Russian billionaires Roman Abramovich, Oleg Baikov and Vladislav Doronin also own pricey homes in the USA. Sales of residences to foreigners for over $20 million in popular business and vacation destinations is growing, according to real estate brokers who cater to luxury buyers. But the precise number of foreign deals involving luxury properties in America is difficult to calculate because many buyers us proxys in their purchases.
You can share this story on social media: