Fear over default as personal bank debt in Russia doubles in two years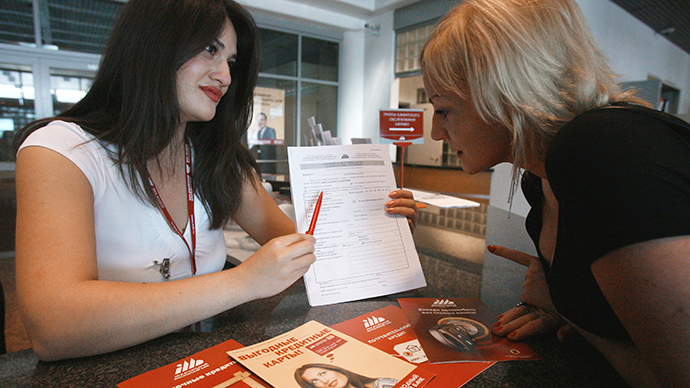 Personal loans in Russia have reached almost $275bn during the past two years as people take up to 5 loans per person. Some Russian cities see 100% of the economically active population taking out loans.
Russia risks seeing a retail credit default, business daily Vedomosti quotes research by Svyaznoj Bank that examined data from the country's two biggest credit agencies NBCH and Equifax.
The bank studied the credit history of people applying for loans and called the results of the study "depressing",  Vedomosti quotes the bank representative.  The number of borrowers with five or more loans increased from 6% to 19% last year.  The average debt now exceeds $15 000 per person, according to the newspaper. Russia's average annual  income per capita is just half of it at $7500.
The number of retail borrowers in Russia  is estimated at 34 million people which is 45% of the economically active population, Vedomosti quotes the Central Bank and the National Bureau of Credit Histories. The share of the economically active population that took out loans is close to 100% in some Russian regions.
S&P expects the consumer lending to growth by about  30% in 2013-2014 leading to the the credit bubble, newsru.com reports.
The portfolios of Russian banks hold troubled loans of about 425 billion rubles, according to the Central Bank. These are loans with payments overdue for 90 days or more. During January - May, this increased by 92 billion rubles, against 50 billion increase last year.
The debt burden of Russian households is now close to 20% of the annual income, gazeta.ru quotes Aleksey Volkov of the  National Bureau of Credit Histories.  That's double of US households that owe 10.9% to the banks, Volkov said referring to IMF data.