Banking system profits return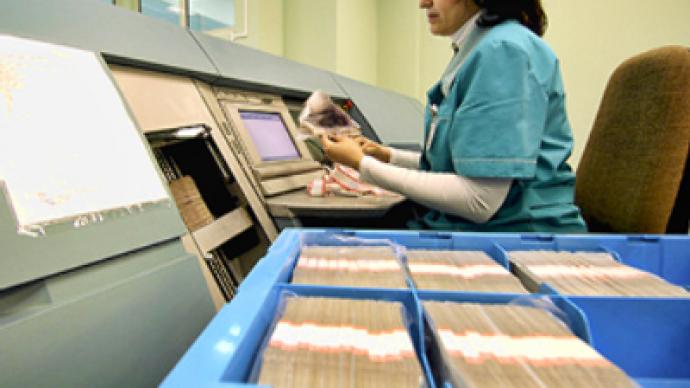 The Bank of Russia says it is expecting a 500 billion rouble net profits in the banking system this year, saying this marks a recovery, but analysts say it doesn't reflect better fundamentals but technical factors.
Central Bank of Russia Chairman Sergei Ignatyev, talking at the Foreign Investor Advisory Council on Monday noted that "in terms of profit level, we are nearing the record level of 2007, when profits were 500 billion rubles."
Central Bank data says, balanced banking-sector profits came to 508 billion roubles in 2007, which was followed by a succession of drops to 408.1 billion in 2008 and to 205.1 billion in 2009. This year Russian banks have already earned aggregate profits of 320.1 billion roubles in the first 8 months.

Ignatyev added that loan portfolios at Russian banks have increased 10% in the past seven months or 6% in real terms. He says the banking system has sufficient liquidity, there is no danger of a shortage of capital and the growth in overdue, bad loans has stabilized.

However, Sovlink analyst, Olga Belenkaya, talking to Kommersant, mostly attributed the growth to technical factors – loan provisioning dropping to 300 billion roubles in the first 8 months of 2010 from 2 trillion in 2009 – not better credit performance.
"Though the banking sector is close to its pre crisis financial result, its results aren't at all caused by recovered business efficiency. In 2007 income grew due to its core activity, which was more than 50% up in terms of credit activity. And this year credits are forecast to grow no more than 15%, which means this year's profit is mostly due to fewer allocations to reserves and their partial recovery."
Mikhail Matovnikov, CEO at Interfax- Centre for Economic Analyses, adds that declining asset profitability, coupled with their nominal growth, is evidence of reduced business efficiency.
"The volume of assets that could generate profit has gone up from 22.1 trillion roubles as of January 1, 2008 to 30.7 trillion roubles as of August 1, 2010. Meanwhile, profit remains at the same level, which indicates that assets profitability has gone down 1.5 times."
Experts agree that this in turn was caused by a significant drop of interest income, with the rates for corporate credits falling this year to 11-13% currently from 17 – 18%.
Vladimir Tikhomirov, chief economist at Otkrytie Bank, also says higher credit activity is necessary to reach pre crisis levels, adding that a fundamental recovery of Russian banking sector will take at least another 2 years.
"The factors providing for the current income growth are front – end – they won't provide for a stable profit in a long term perspective."
You can share this story on social media: