Russian automakers cut jobs by 30% over 5 years, but boosted output
Published time: 22 Jul, 2013 14:07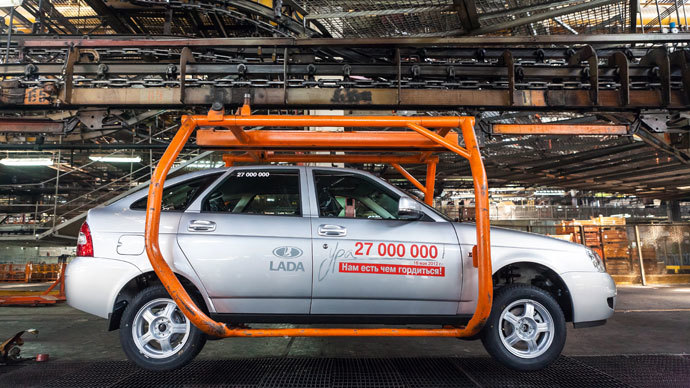 Over the past five years the number working in the Russian vehicle production fell by 29%. Output increased by 24% proving the sector has become more productive.
Since  April 2012 car manufacturers cut  5% of their work force bringing the total number employed to 244,000, business daily Vedomosti reports. Most jobs were cut after the crisis in 2008-2009. Russia's Avtovaz cut a quarter of its staff, and GAZ halved the number of its workers, the newspaper quotes Ivan Bonchev from SI Capital Partners as saying.

The potential for further job cuts is just about exhausted, according to Bonchev.  Now Russian carmakers are emphasizing improved productivity to compete with foreign manufacturers, he says.  For example, one employee at the U.S. Kia factory produces more than 100 cars a year, Bonchev says.

Russia's biggest car maker Avtovaz  plans to increase output by fifty percent  to 1.1 million cars by 2020, while maintaining 70,000 employees, according to Vedomosti.  It means the automaker will be producing 15 cars per employee.

The growth of labor productivity – is the main goal of AvtoVAZ in the coming years, Vedomosti quotes the director of Avtovaz International Relations Igor Burenkov.  AvtoVAZ began production of models from partners Renault-Nissan in 2012. It now makes the Nissan Almera and is preparing to manufacture Renault and Datsun.  

GAZ started contract manufacturing of VW cars in 2011, GM and Daimler also became its partners this year.  The number of its employees of may still grow, which will depend on production volumes and the market situation, according to the company.

The Peugeot Citroen factory in Kaluga started full cycle production last year. The plant's capacity is 125,000 vehicles a year, but so far it is at half capacity. However, staff will be maintained at the current level at 3,000 people, according to Vedomosti.

Russian carmakers lag behind foreign companies as they are still vertically integrated and producing most components themselves, the newspaper quotes BCG partner Ewald Kreid.  Outsourcing will allow them to further reduce the number of employees in the future, says Kreid.

The Russian automobile market is poised to overtake Germany and become Europe's largest by 2016, and the world's fifth biggest, by 2020, according to a report from the Boston Consulting Group.

The country's auto market is slated to grow by an annual rate of six percent through 2020, when annual sales will reach 4.4 automobiles, according to forecasts.