Russian diamonds to debut at Sotheby's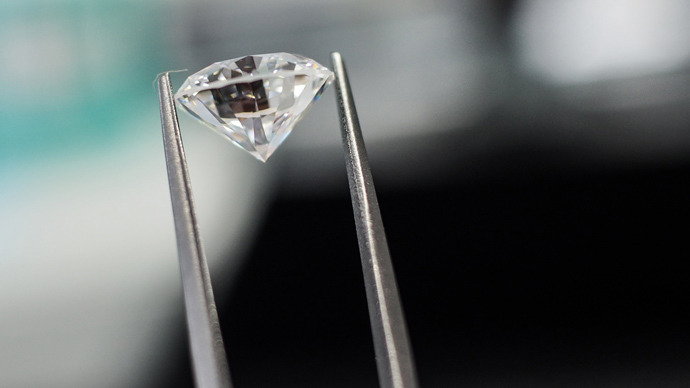 Russian diamond company Alrosa will now sell its precious gems at Sotheby's auctions. The two companies have signed a memorandum of cooperation, a statement on Alrosa's official web site said on Monday.
The international auction house will also provide marketing support to Alrosa, the report states.
RT reported mid-March that the diamond company planned to sign the document, when it came to light Alrosa had held a trial sale and earned $500,000 for two diamonds.
The move is in conjunction with the company's preparation for its planned October initial public offering. Initially it was reported Russia and the Yukutia republic would each offer a 7 percent stake in Alrosa, which will be underwritten by Goldman Sachs, but now, the Russian government has invited other investors.
Vladimir Potanin's Interros has been invited to take part in Alrosa's IPO, in order to ensure a competitor like De Beers, doesn't get hold of a majority stake in Russia's largest diamond company.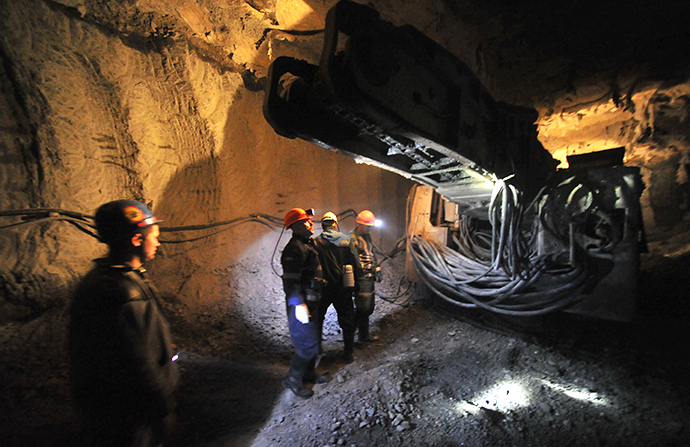 Kommermant reported officials are wary of Alrosa's global competitors taking part in the IPO and "breaking the company into pieces," that's why a decision has been made to bring "a large domestic investor" on board.
Alrosa will also shave off extraneous projects in preparation for its IPO- likely its hydro-power station, gas and oil ventures, hotel chains, and agriculture companies.
A journalist from IDEX's Memo, on site at Alrosa's Nyurba mine in the Republic of Yakutia, asked President Igor Sobolev when the company would be the largest diamond company in the world, and he confidently and quickly responded, 'by  2018'.
Russian diamond miner Alrosa is to begin digging in Angola and Botswana. Alrosa board members approved a new joint venture for search and exploration in Africa in 2013. Alrosa will work alongside Endiama, Angola's national diamond company to identify, and acquire rights to diamonds in Botswana. Alrosa, by carat, is the world's largest diamond producer. In 2012, the company produced 34.3 million carats and sales were $4.61 billion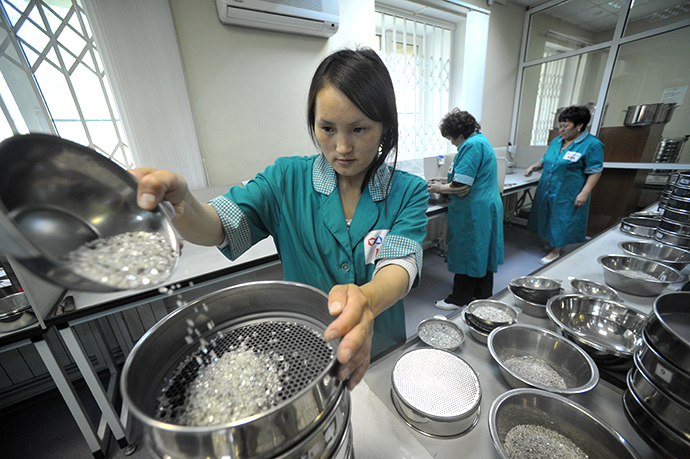 In early April an expert subcommittee of Russia's State Precious Metals and Gems Repository, GOKHRAN, blocked the sale of a Russian diamond weighing 47.48 carats at Sotheby's. The Repository recognized the stone to be unique and taking such gems outside Russia is banned by law. Alrosa tried to appeal the ban, stating the gem it was produced from was never recognized as unique but the Repository declined the appeal.
Alrosa sells diamonds wholesale and retail. Before teaming up with Sotheby's the company sold the gems on their own or participated in auctions. It also has a number of private customers from the US, Belgium, Israel, Hong Kong and India.
Alrosa operates in the Russian Yakutsk region, as well as in Angola and Namibia.  The company will infuse an estimated $2 billion in capital into its geographical exploration efforts in the next seven years, according to Rough and Polished.
Alrosa accounts for about 25 percent of world diamond production and 97 percent in Russia. The company is valued between $14-15 billion. In 2012, the company increased revenues by 9.9 percent, profit by 34.3 percent, and the stock climbed 6.3percent.
You can share this story on social media: