Rusal officially rejects Norilsk buyout proposal
Published time: 4 Mar, 2011 08:18
Edited time: 4 Mar, 2011 16:22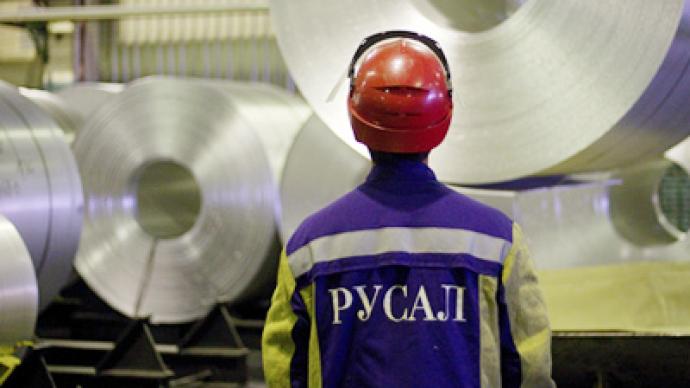 Rusal has officially rejected Norilsk Nickel's offer to buy back 20% of its 25% stake in the miner for $12.8 billion after Rusal's board considered the issues on 3 March.
Rusal´s Board of Directors accepted the recommendation of a special committee to reject the Norilsk offer.This came after key Rusal shareholder and CEO, Oleg Deripaska had indicated his disinclination towards accepting the offer, despite comments from key minority shareholders Mikhail Prokhorov and Viktor Vekselberg that they considered the offer worth consideration.
Troika Dialog analysts Mikhail Stiskin, Sergey Donskoy, Irina Lapshina, ZaurbekZhunisov and Stanislav Ermakov noted that Glencore had also supported Deripaska's position.
"Reportedly, Viktor Vekselberg and Mikhail Prokhorov as shareholders of UC RUSAL supported the sale, but Deripaska with his 47.7% stake remains the controlling shareholder and is the one making the ultimate decisions. It is suggested he was also supported in his position by Glencore."
Rusal´s stake has become a key issue in the long running conflict between the two mining companies,which has seen accusations of voting irregularities claims about managerial efficiency, repeated buyout proposals involving both Rusal, Norilsk and key Norilsk shareholder, Interros, and the subject of legal actions in the Caribbean, the US and Russia.The vote comes ahead of an EGM on March 11, called at the request of Rusal, after a previous EGM in October 2010 failed to overturn the outcome of a Board of Directors vote in June 2010.
However, Troika Dialog analysts were skeptical about Rusal's capacity to get the Norilsk Board they are proposing.Recent weeks have seen Rusal cout action in the Caribbean and US fail to force disclosure of any linkage between Norilsk and Trafigura, which agreed to buy a stake in Norilsk in December, or to prevent voting with shares Norilsk management is acquiring through a share buyback.
"Importantly, the chances that Rusal can dominate the new BoD after the EGM on March 11 are minimal given that the treasury shares and the Trafigura block (15% combined) will be voting as per the latest decision of the Caribbean Court."
The Troika Dialog analysts believe that Deripaska may be looking for a better price for the Rusal stake from Norilsk.
"Apparently, Deripaska reckons that not all weapons were mobilized to take over Norilsk Nickel and the shareholder fight will continue unabated. In the meantime, we argue that there will be further opportunities for UC RUSAL to monetize its stake (most importantly, via the sale to Norilsk Nickel) down the road."