Rusal's new director entangled in Hong Kong trading scandal
Published time: 23 May, 2013 13:05
Edited time: 23 May, 2013 13:13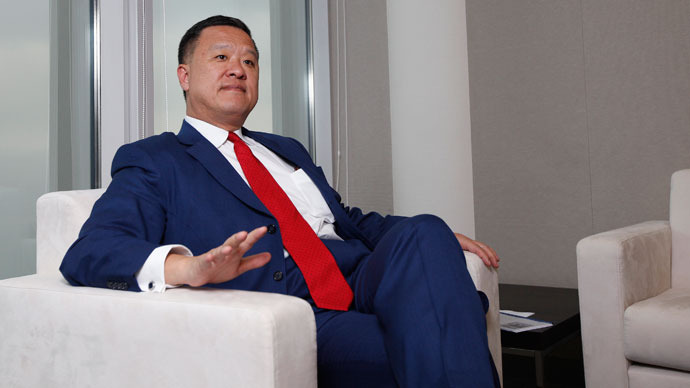 Rusal, the world's largest aluminum producer, is without the company's independent non-executive director Barry Cheung Chun-Yuen, who has taken a leave of absence following an investigation into the Hong Kong Mercantile Exchange (HKMEx) which he chairs.
The Hong Kong Securities and Futures Commission  has opened as case against HKMEx for using US dollar-dominated gold futures in 2011, which is seen as an attempt to 'steal' commodity deals from other trading floors.
The SFC statement on May 21st says "the suspected irregularities are serious ones", and HKMEx surrendered its trading license earlier in the month.
According to some sources, Cheung borrowed large sums of money from the Hong Kong business and hasn't yet paid back his loans, an accusation which he denies.
Cheung stepped down from his official obligations on Tuesday, after the Securities and Futures Commission (SFC), in partner with local police, raided to the HKMex office and seized several electronic records as evidence of false documentation in trading securities.
Following the seizure, police arrested three men that aren't current or former employees of HKMEx, according to Cheung.  Police arrested another unidentified man by the surname 'Zhu' on Wednesday, on suspicion he possessed instruments used to falsify documents.
Cheung, 54, has chaired the HKMEx Executive Council since it was founded in 2006, and hasn't been accused of any crime, and says he will fully cooperate with the investigation.
Cheung said he is the HKMEx's largest shareholder.
The Russian Oligarch Dance
The board of Rusal nominated and approved Cheung as an independent director at Rusal in 2012 and he was elected Chairman after billionaire Vicktor Vekselberg resigned in March.
According to the company's website, Mr. Cheung remains on the Board of Directors of Rusal.
Vekselberg quit on March 12 2013 as chairman of Rusal, citing the company's deep crisis brought on by rival oligarch Oleg Deripaska. Other members accused Vekselberg of 'jumping ship' because for one year prior to his resignation, he had disengaged from company activities- he didn't even attend board meetings.
Barry Cheung of the Hong Kong Mercantile Exchange was nominated and approved by the board 4 days after he quit.
Sual Partners, headed by Victor Vekselberg, owns 15.8 per cent of Rusal and proposed a resolution that Cheung be replaced as head.
The shareholders meeting of Rusal will be held on June 14, when the board is due to re-elect seven directors whose term expires.
Cheung, a former McKinsey and Co. employee received his MBA from Harvard Business School.