Rostelecom won't allow foreign shareholders on security concerns
Published time: 19 Jun, 2013 10:47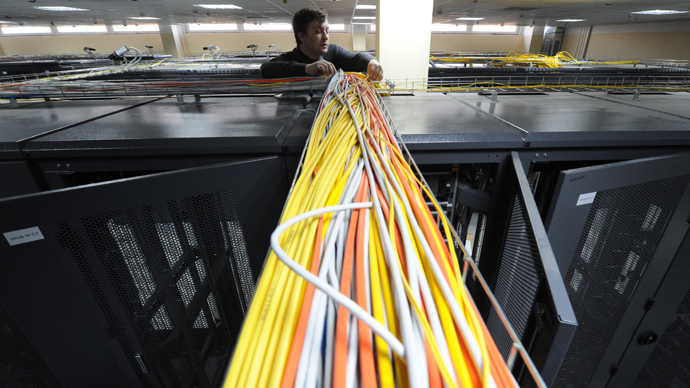 Rostelecom, Russia's biggest telecommunication group, will reportedly not allow foreign investors into its $5 billion privatization. The Russian state insists it should retain controls over such a strategic asset.
Sale of the state's 55.2 percent of Rostelecom voting stock has become a matter of discord between Russia's Ministry of Economic Development and the Ministry of Defense. Under the privatization plan the government should relinquish its Rostelecom shares by 2016, earning an estimated $5 billion in the deal.   
The nationality of buyers seems to have become a concern for the country's Ministry of Defense. At the moment "it's necessary to understand … whether it'll effect our security," Kommersant quotes its sources in the Ministry.

In 2012, when the Presidential decree for the incorporation of Svyazinvest into Rostelecom was being prepared, the Ministry of Defense, the Federal Protective Service, as well as the Federal Security Service stipulated that the state must maintain control over Rostelecom.

"Given the strategic importance of the consolidated Rostelecom for the defense capacity and security of the State (the mentioned above ministries) think loss of the government controls over the joint company is unacceptable,"  Kommersant reported.

Now Russia's government is discussing a compromise plan for Rostelecom privatization.

"It's possible to agree with the members of power ministries if we forbid foreigners to buy (Rostelecom shares)," Kommersant quotes a high ranked Russian bureaucrat as saying.

Rostelecom privatization is most likely to be limited to Russia's big troika of telecom operators – MTS, Megafon and Vympelcom, the source added. 
At the moment the state's companies – Svyazinvest Holding and Vnesheconombank – own a total of 55.2 percent of Rostelecom voting shares. Rostelecom capitalization at the RTS-MICEX floor is at around $8.9 billion.