Rosneft CEO invites Japan to make billions with Russia
Published time: 19 Mar, 2014 09:23
Edited time: 19 Mar, 2014 09:47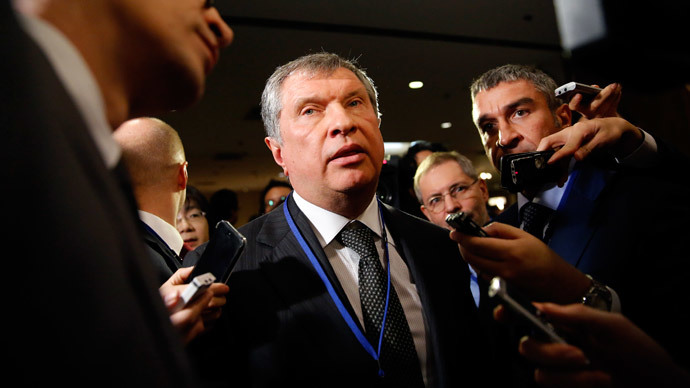 Igor Sechin, a head of Russia's energy giant Rosneft, has urged for broader cooperation with Japan. Sechin said closer energy ties between his company and Japan could be worth billions of dollars.
"The prospects for bilateral co-operation expansion are huge," the CEO of the Russian oil company Igor Sechin said at the sixth Russian-Japanese Investment Forum that opened in Tokyo on Wednesday.
"According to our estimates, it's tens and even hundreds of billions of dollars through our company alone."
Russia is interested not only in attracting partners, but also in the cooperation in the whole production chain, which includes "recovery, infrastructure, processing and transport of resources."
"We are offering not just energy sources and electric energy. We also offer significant expansion of investment opportunities –through sharing the capital of high margin Russian extracting and processing companies with a minimal risk," Sechin added.
A stricter contract system is also crucial for achieving a long term economic effect. Coupled with the exchange of assets it will "allow us to fully avoid the political and contractual risks," the Rosneft CEO said.
The investment seminar in Japan took place a day after Tokyo imposed modest sanctions against Russia for annexing Crimea. The restrictions included suspending talks on relaxing visa requirements between the two countries and talks on investment, space exploration and military co-operation.
Earlier this week the US and the EU banned visas for a handful of leading Russian and Ukrainian officials, as well as froze their assets .
In 2013 Japan was 7th on the list of Russia's trading partners, ahead of such countries as the United States, Turkey, and Italy, according to Alexei Likhachyov, Russian Deputy Minister of Economic Development. Trade turnover between the two countries increased 7 percent to about $33 billion , where Rosneft accounted for about 10 percent.