Flying le coop: France's richest man seeks Belgian citizenship
Published time: 8 Sep, 2012 12:28
Edited time: 12 Sep, 2012 13:05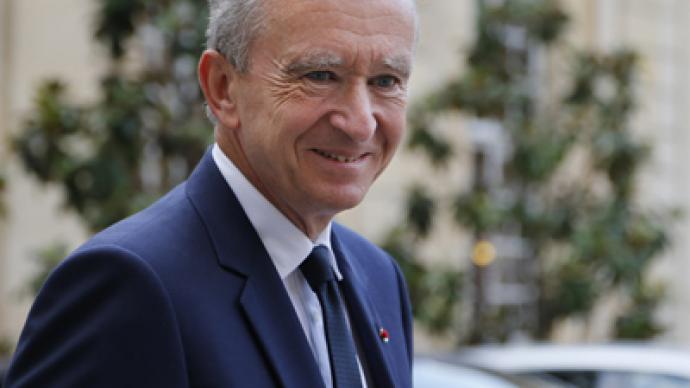 Bernard Arnault, France's richest man with a net worth estimated at $41 bln, has applied for Belgian citizenship citing personal and business reasons. He claims this has nothing to do with François Hollande's 75 per cent tax hike on the super-rich.
As the Belgian authorities evaluate Arnault's request to determine whether or not he has demonstrable "real ties" to Belgium, it stands to reason that Arnault would wish to seek shelter under Belgium's 50 per cent tax rate.

Arnault insisted on Saturday that he was not becoming Belgian to dodge tax.
"Contrary to information published today, Bernard Arnault clarifies that he is and will continue to be a fiscal resident of France. His possible acquisition of Belgian nationality will not change this situation or his determination to develop LVMH and create jobs in France," He said.
While 50 per cent may seem a bit steep to many, it would in fact be significantly less than the 75 per cent tax rate for the super-rich that French President Francois Hollande trumpeted as a centerpiece of his election campaign last February. The new rate is set to come into effect next year, hiking taxes on anyone who makes more than 1 million euro per year.
While there have been reports that Hollande may have been attempting to "water down" his ambitious tax plan, French Finance Minister Pierre Moscovici effectively torpedoed any such speculation on Friday, saying Hollande's plan will be "strictly implemented."
"Any other interpretation is unfounded," he told AFP. "The president made a very clear and strong commitment on very high earnings being imposed at 75 per cent," the minister said.
France's current tax rate for those in Arnault's income bracket falls at around 40 per cent, similar to Belgium's.
Arnault is known for being something of a country-hopper.  
The chairman and CEO of Moët Hennessy-Louis Vuitton S.A. (LVMH) and Christian Dior, Arnault emigrated to the United States In 1981, developing a real-estate company. Three years later, he returned to France to become CEO of Financière Agache, a luxury goods company that would eventually acquire Christian Dior, setting Arnault on the path to creating one of the largest luxury goods conglomerates in the world, subsequently taking over after a merger between Louis Vuitton and Moët Hennessy.