RBS reports losses and provisions $2 bln for insurance mis-selling
Published time: 3 Aug, 2012 13:43
Edited time: 3 Aug, 2012 17:43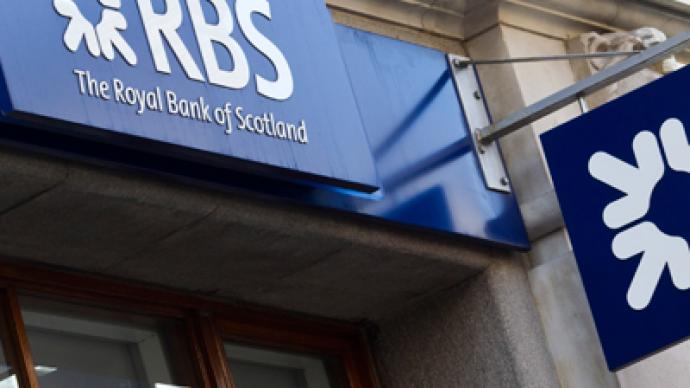 Royal Bank Of Scotland has reported a whopping loss in the first-half of 2012 of $3.08 billion. The bank has warned it faces several potential lawsuits over rate fixing allegations which could hurt its future bottom line.
RBS, which is 82% owned by British taxpayers, said revenue in the period fell to $17.5 billion from $23.8 billion a year earlier.
The disappointing results were attributed to a $4.6 billion charge for the fair value of the company's debt. Revenue for the second quarter has also narrowed by roughly one third coming in at $9.5 billion compared to $12.8 billion in the same quarter a year before. 
"Despite the tougher economy, these results show our ongoing businesses to be more resilient than before with many further improvements under way," Chief Executive Stephen Hester said.

The bank has put aside a hefty provision of $195 billion to pay the costs of a computer crash following a systems upgrade at the bank in June which stopped payments being processed, causing havoc with customer accounts. Hester said he would not accept a bonus for this year in light of the IT fiasco, adding that recent mistakes had seen the banking sector's reputation 'fall to new lows'.
The worst problems were in RBS' Ulster Bank subsidiary in Northern Ireland, where Hester said problems with customer accounts had "now been largely rectified."

The bank also set aside $78 million for compensating loan customers who were mis-sold complex interest rate swaps.

It also made an additional provision of $210 million to refund customers who bought payment protection insurance which they didn't need, raising the total provision for insurance mis-selling to roughly $2 billion. 
However, the whopping sum does not include the fine the bank is likely to face for the Libor interest rate-rigging scandal.

Chief Executive Stephen Hester said although the issue remains under investigation and so far, only Barclays has been fined for its part in the scandal, he expected a huge penalty for the bank following the $451 million penalty imposed on Barclays last month.
RBS said it had sacked a number of employees for misconduct as a result of investigations into the fixing of the London interbank offered rate.