Former McKinsey & Co. CEO hit with fine, 2-year prison term for insider trading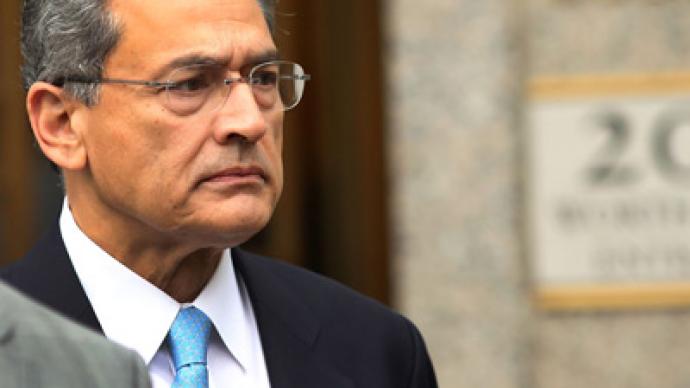 Rajat Gupta, formerly one of the most respected CEOs in the US and a board member of financial giants like Goldman Sachs and Russia's Sberbank, received a prison term and a $5 million fine for insider trading during the height of the 2008 crisis.
Prosecutors accused Gupta, the former head of the global consulting firm McKinsey & Co. and a onetime director of the huge consumer products company Procter & Gamble, of being "above-the-law" in feeding his close friend and partner Raj Rajaratnam insider knowledge between March 2007 and January 2009. Billionaire Rajaratnam is also a founder of the Galleon hedge fund.During the trial which has been going on since May, the prosecution highlighted a September 23, 2008, phone call made by Gupta to Rajaratnam just minutes after Gupta had learned about Warren Buffett's planned investment of $5 billion by Berkshire Hathaway in Goldman Sachs.Shortly after the called ended, Rajaratnam purchased $40mln in Goldman stock, which made him nearly $1 million at the height of the financial crisis that had engulfed the country. In sentencing the judge called the phone call "the functional equivalent of stabbing Goldman in the back."Judge Jed Rakoff said the punishment was sufficient for the 63-year-old Gupta."… no one really knows how much jail time is necessary to materially deter insider trading; but common sense suggests that most business executives fear even a modest prison term to a degree that more hardened types might not. Thus, a relatively modest prison term should be `sufficient, but not more than necessary,' for this purpose," Rakoff said. However, the sentence was well below the 10 years requested by government prosecutors, and well below sentencing guidelines, which made some experts question whether it's a fair punishment. Chicago attorney Andrew Stoltmann says Gupta "intentionally betrayed his duties to Goldman Sachs" and refused to take responsibility for his actions. Gupta's sentence should have been closer to the 10 years prosecutors had recommended, as his actions were more serious a crime than those of his friend Rajaratnam, who was sentenced for 11 years in prison."At the same time Mr. Gupta did not trade and did not make money. Rather his motive was friendship. Here the fall from grace for him will be much harder than for most given his stature in the community. That may well be the worst punishment," said Thomas Gorman, a former senior counsel in the division of enforcement at the Securities and Exchange Commission.Prosecutors say Rajaratnam earned up to $75mln illegally through his trades while Gupta's attorneys point out that their client earned nothing.
You can share this story on social media: