Market Buzz: Weak US data pushes stocks down
Published time: 4 Apr, 2013 06:50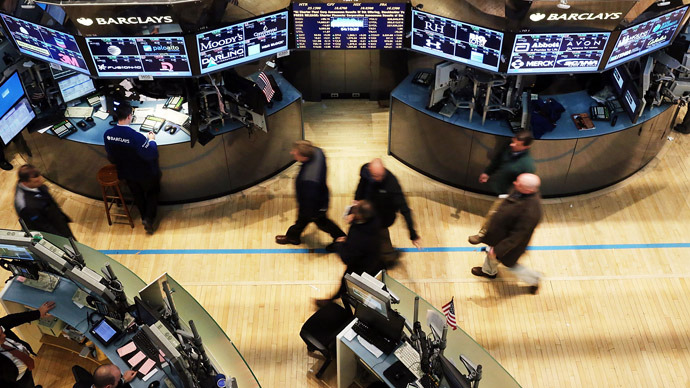 Unsatisfactory macroeconomic data released in the US at the end of Wednesday's session will influence Thursday's dynamics on the Russian floors. 
Wednesday was a calm day for Russian stocks. A steep decline at the opening was compensated by moderate growth later in the day. The indicators are almost unchanged from Tuesday. The MICEX lost 0.17% to 1427.94, while the RTS dropped by 0.98% to 1425.99. The RTS declined as the Russian rouble weakened against the US dollar.
Data released on Wednesday in the US turned out worse than expected, indicating slowing American economic growth.
US stocks fell on Wednesday on weaker-than-expected economic data. Investors trimmed positions ahead of Friday's jobs report. Private-sector jobs report for in March revealed less people than expected were hired. The S&P 500 and Nasdaq lost more than 1% each. The Dow was down by 0.76%.
European stocks ended Wednesday in the red. British FTSE100 lost 1.09%, German DAX dropped by 0.87%, French CAC40 declined by 1.32%. 
Japan also fell on the news from the States. The Nikkei is falling 1.7% amid a stronger yen. 
Other Asian markets are mostly lower on Thursday, following a weak close on Wall Street overnight. The mood is mostly cautious in the region with investors awaiting some key economic data and the Bank of Japan's interest rate update.
South Korea's Kospi dropped 1.6% to 1,950.47 on growing tensions between North Korea and the US. 
Australia's S&P/ASX 200 lost 0.8% to 4,917.90. Hong Kong markets were closed for a public holiday.
Oil is currently mixed. Brent is up 0.22%, while Light has lost 0.03%.