iMade in America: Apple to move 'some' manufacturing back to US
Published time: 7 Dec, 2012 13:30
Edited time: 7 Dec, 2012 18:52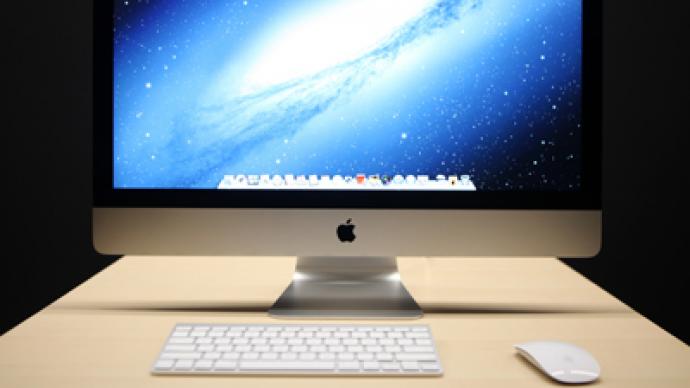 Apple is going to invest over $100 million to shift manufacturing of some Mac products back to the United States next year, according to CEO Tim Cook.
­"Some production" of the Mac will be brought back to the United States, Cook said in interviews for Bloomberg Business Week and NBC. Particularly, Apple is going to manufacture one of its Mac lines exclusively in the US. The company has been working on "doing more and more" in the US, Cook told NBC.

In an interview with Bloomberg Business Week Cook said the company would be investing over $100 million in 2013 into developing US-based manufacturing, and the US production is to begin next year. Though he did not specify which line of computers would be produced in the US or where in the country they would be made.
The speculation that Apple might shift manufacturing grew when some of the products it released lately had the words "Assembled in USA" inscribed on the back.
According to Cook, key components in iPhones and some other Apple products are already manufactured in the United States. 
"The engine in [the iPhone] is made in America… but engines are made in America and are exported. The glass on this phone is made in Kentucky. We've been working for years on doing more and more in the United States," Cook said.
However, the assembly takes place outside the country – currently Apple's products are mostly assembled in China, where the company outsourced most of the manufacturing in the late 1990s. As for iMacs, the company assembled them in Elk Grove, California, until 2004.

"Across a lot of industries, companies are rethinking their strategy of where the manufacturing takes place," Hal Sirkin, a partner with The Boston Consulting Group, told AP.

Chinese wages are raising 15 to 20 percent per year, according to Sirkin, while US wages are rising much more slowly, and the country is a cheap place to hire compared with other developed countries like Germany, France and Japan. Apple and Foxconn faced significant criticism in 2012 over working conditions at the Chinese facilities where Apple products are assembled. The attention prompted Foxconn to raise salaries.
Cook said Apple was indirectly responsible for creating more than 600,000 jobs in the US through retail stores, research and development and third-party app developers.
It was Cook's first broadcast interview since taking over from Steve Jobs, who died in October, 2011. Speaking of Apple's former chief executive Cook said "I loved Steve dearly, and miss him dearly." "He told me, on a couple of occasions before he passed away, to never question what he would have done. Never ask the question, 'What Steve would do?'… just do what's right."
The news comes a day after Apple had its worst stock fall in four years, erasing $35 billion in market capitalization. It stock price plummeted on Wednesday down 6.43% to $538.79. On Thursday Apple's stock rose 1.6% to close at $547.24.