Speculation on Polyus share skyrocket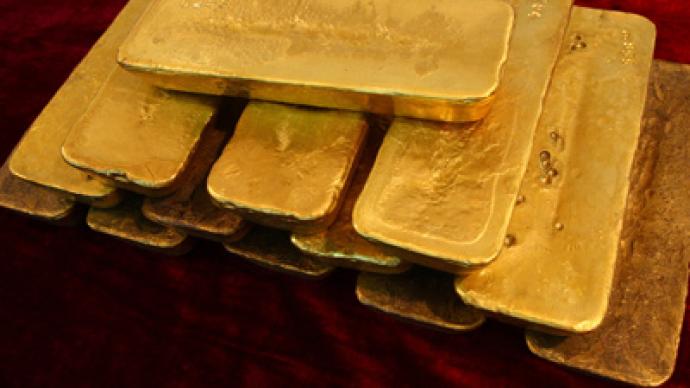 Russia's biggest precious metals producer Polyus Gold has seen its shares skyrocket on Friday and continue on Monday. But the reasons for the sudden attractiveness of the company's shares left many investors wondering.
By the end of the last week Polyus Gold shares shot up 38%, and that rise has continued with the company trading at 1631 roubles on Monday.Analysts have different theories on why there's been such an upturn. Aleksey Morozov, the head of analytic department at UBS, thinks it is possible the company itself has been buying back stock. "The main company Polyus Gold Int has finalised a reverse takeover (RTO) of its subsidiary Polyus Gold, having acquired 92.95% of its shares. In this case after finalising the deal the main company should operate a delisting and possibly, Polyus Gold Int decided it was the right time, because shares price was rather low".Pavel Emelyantsev from Investcafe believes Polyus Gold will buy in all the shares from the rest of minor shareholders in order to complete the delisting on the Russian bourse. He says "previously the shares were delisted in August 2011 at the price of 1900 roubles, but the price dropped a lot since than – by 45%. As far as the buy back of the rest of shares, it's not that urgent as the potential price will not be that high".Another reason for Polyus Gold Int to buy in its shares could be the possible merger of Polymetal International and Polyus Gold. "It's easier to estimate the Polyus Gold shares price after delisting", says Aleksey Morozov.Pavel Emelyantsev agrees, saying the merger could be the reason for investors to start actively buying shares, even though last month Polyus Gold quelled the rumours. Pavel Emelyantsev says "on Friday Polymetal's market capitalisation equalled $6.83 billions and Polyus Gold's $10.1 billions. Thus the potential merger will be operated by the bigger company" and investors are interested in Polyus Gold. Mr. Emelyantsev believes the merger seems to be even more likely keeping in mind that Suleyman Kerimov (the biggest Polyus Gold shareholder owning 40.2% stocks) has previously sold his Polymetal's shares to the current shareholders." Both gold mining companies have a lot in common and their majority shareholders are lawful to each other", said the analyst from Investcafe adding that the rumours are not confirmed, that's why the share price could still fall.
You can share this story on social media: