Pawnshops cash in as bank lending slows in 2009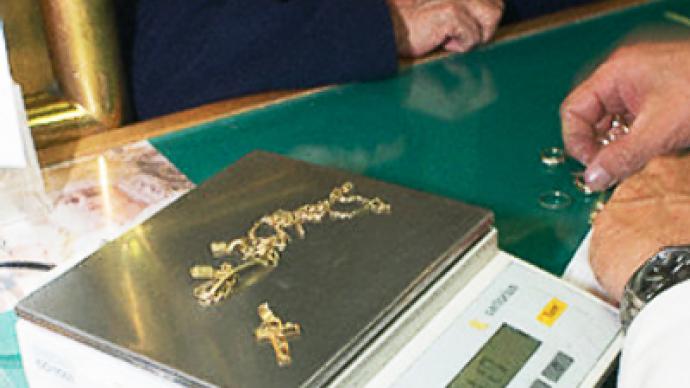 Demand for pawnshop services has seen an increase as 2009 bank lending fell. More people are turning to pawnshops for quick credit needs, reports Kommersant daily.
According to the report, pawnshops increased lending volumes by 18% in 2009 while banks decreased their overall credit profile by 0.8%.
The Central Bank released a Financial Stability review showing that pawnshops had managed to prosper during the financial downturn.
"Thanks to the particular structure of the property being pawned (experts estimate that more than 90% of their funds came from gold jewelry and also high interest rates of up to 25% a month) pawnshops were able to avoid a significant risk growth and increased their loaning 18% compared with 2008."
Dmitry Terentev, General Director of Joint Pawnshop, says it is difficult to correctly measure the market size, but says that the lending volume for 2008 was around $1 billion and that this rose to about $1.2 billion in 2009.
"Unlike banks, pawnshops have short credit, on average up to two months, therefore turnover is very high."
The Central Bank estimates that there are about five thousand pawnshops in Russia, but the figure is not certain as there is not single regulatory body. Their activity is loosely regulated by a law "On Pawnshops" which passed in 2007 as well as reporting to the Federal Financial Monitoring Service which falls within the law "On countering the laundering of funds obtained through criminal means. According to the law, only deposits of precious metals and stones, as well as jewelry and other valuable worth over 600 thousand Roubles are subject to mandatory control.
However, the dynamics of the pawnshop market make it attractive for borrowers, says New Era pawnshop CEO Lyudmila Cevtsova.
"At the height of the crisis, people needed money fast and without references, that's why their interest in pawnshops is understandable."
Sevtsova adds that factors which caused a slow down in bank lending, didn't effect pawnshops. According to legislation, pawnshops are not required to form reserves for possible losses on lending, which last year ate up a lot of the banking sector's income and kept it from developing business.
"Collateral in pawnshops is more liquid and easier to redeem, but for banks, where collateral consists of real estate, transport and equipment, redeeming it is more difficult."
Last year, the deputy head of the Financial Monitoring Service, Dmitry Skobelkin, said that from the beginning of 2009 there was a tendency towards lowering the amount of total cash funds through banks.
"In my opinion this could be connected with the moving of cash-converting schemes from banks into less controlled niches like payment terminals and pawnshops."
You can share this story on social media: