North Korea looks for APEC role?
Published time: 29 Aug, 2012 13:11
Edited time: 7 Sep, 2012 20:39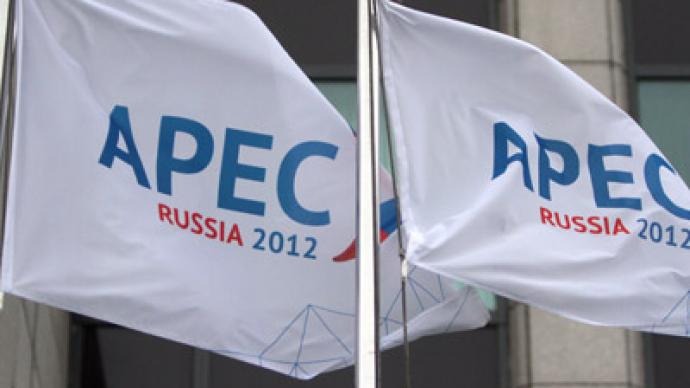 North Korea reportedly wants to participate in the Asia-Pacific Economic Cooperation (APEC) summit in the Russian city of Vladivostok which kicks off on September 2.
Pyongyang has reportedly asked Moscow to attend the talks with "guest" status, and sent an envoy to Russia in mid-July to receive permission from the authorities, Japan's Yomiuri Shimbun newspaper reported Wednesday, citing an unnamed source.
Next week the Asia-Pacific Economic Cooperation forum will take place in Russia for the first time, with a keynote speech by President Vladimir Putin. First Deputy Prime Minister Igor Shuvalov said the Russian government have invested a great deal in sprucing up Vladivostok for the forum, creating an Asian "investment capital" out of the port city.

North Korea is not a member of APEC and thus it's unlikely the country may be granted the right to attend official meetings at the summit. "But it is still possible that they will be allowed to attend events held on the sidelines of the summit talks", the paper quoted its source as saying.

"More than any of his predecessors, Kim Jong Un needs economic development and success for his legitimacy. This includes reaching out for technology, investment, capital and export markets. The almost monopolistic role of China as North Korea's main foreign economic partner is a source of concern for Pyongyang," Rudiger Frank Professor of East Asian Economy and Society, at the University of Vienna told RT. "By establishing connections with APEC, Kim Jong Un will kill two birds with one stone: diversification of his economic partners, and getting a step closer to the USA which holds the key to an internationalization of North Korea's economy."

The report of North Korea's intention to participate in APEC comes as Tokyo and Pyongyang are set to meet Wednesday in their first face-to-face talks in four years. The thorny issues up for talks generally remain the same.

Tokyo continues to search for answers regarding the fate of citizens abducted in the past by North Korean agents, as Japan suspects that Pyongyang has failed to provide all the information it has. Analysts are also looking for clues about the emerging foreign policy of North Korean leader Kim Jong-Un, who took over after his father Kim Jong-Il died in December.