Nokia shareholders approve $7.4 bn acquisition by Microsoft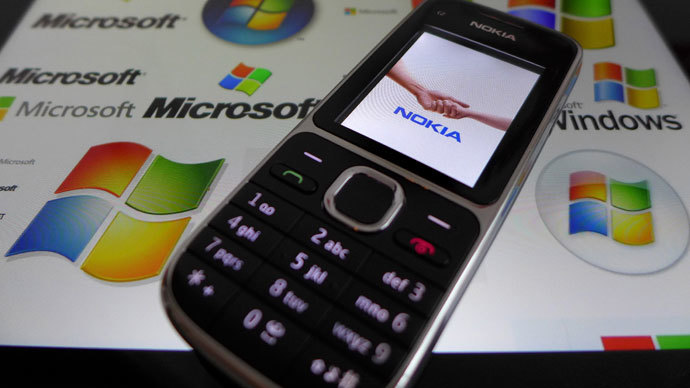 In a historic vote, shareholders in Finland's troubled high-tech firm, Nokia, have voted to accept a $7.4 billion takeover of its mobile division by Microsoft. The deal could boost the US software giant's revenue by $20 billion.
Microsoft will take on 32,000 Nokia employees as it expects to strengthen its position in the mobile device market. Nokia will concentrate on telecommunication equipment products.

The Prime Minister of Finland hasn't concealed the departure of the Nokia business as very painfully to the country.
"The Nokia mobile phone is a symbol of economic growth. I would even call it an economic miracle of Finland. But now the country goes through difficult times. We have problems with the ship-building industry; many paper-mills are closed. And there is a dilemma for the state, whether to help the large companies. But we have such an approach – we never support the unprofitable industry. And Finns understand it. Otherwise we would have run out of money ", said Jyrki Katainen to Vesti Finance.
One of the big national complaints is that the company was associated with Finland and accounted for 4 percent of GDP.  The other complaint from Nokia shareholders was against former CEO Stephen Elop who decided to base new phones on Windows Phone instead on Google's Android operating systems.
Since the deal was announced at the beginning of September Nokia's share price has doubled, closing at 6.00 euros on November 18th.
Besides negotiating the transaction, Microsoft shareholders will elect a new board of directors. The main intrigue is whether Steve Ballmer and Bill Gates will keep their positions.
In August Ballmer announced his decision to leave his post as Microsoft CEO. Many connected his decision with an unsuccessful entry into the market for mobile devices. In October three of twenty largest investors insisted on Bill Gates' leaving. They said he interferes with the acceptance of new development strategies. Both heads are the largest private Microsoft shareholders, Gates has 4.5%, and Ballmer 4%.