New Volvo truck plant opens as sector braces for tough year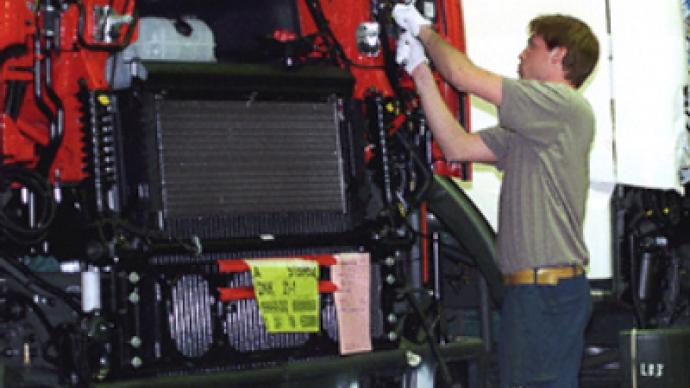 Sweden's Volvo Trucks has launched its assembly plant in what's know as Russia's Detroit – the Kaluga Region. Analysts say the timing of project is both good and bad.
Dozens of journalists – dozens of questions left unanswered. Volvo trucks spoke about 100 million euro plant investment, with a potential capacity of 15 000 vehicles a year.
But how the company revised its plans to accommodate the economic downturn remained secret, with the Head of Volvo Trucks, Russia, Lars Korneliusson saying the number of uncertainties made making forecasts public of little value.
"With the situation we have today, we do not make forecasts. At least we don't publicly announce our forecasts because its so difficult to make forecasts, so many factors, so many uncertainties, that we don't feel that its useful to announce any figures."
Analysts say the company will be able to produce no more than half its potential capacity in the next 2 years. They say, truck producers will be hit worse than car manufacturers as their main customers such as retail and construction, are experiencing major problems.
However, the timing for the plant launch was good as Russia has recently sharply raised duties on imported vehicles, which provides some upside according to Elena Sakhnova, Analyst at VTB.
"If you import a heavy truck right now you will between 5% to 25% duty, depending on the carrying capacity. Given that the prices for heavy trucks are quite significant, they exceed $50 thouand and they are actually more than $100 thousand, you can see that the savings on the duty itself will be quite significant."
Analysts say, Volvo also has an advantage over local players like Kamaz, as most Russian customers need trucks for long-distance hauling rather than servicing construction sites. But that won't allow it to escape short term troubles.
On Monday Russia's major truck manufacturers resume production after a month long break. However a forecast 40% decline in sales means that local truckmakers, including the newly opened Volvo plant, may go on more forced vacations this year.
You can share this story on social media: