Transneft posts FY 2010 net profit of 158.081 billion roubles
Published time: 3 Jun, 2011 08:22
Edited time: 3 Jun, 2011 12:58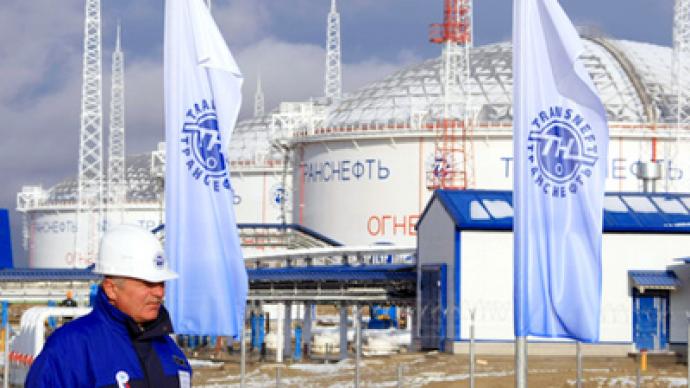 Russian oil transportation monopoly, Transneft, has posted a FY 2010 net profit of 158.081 billion roubles under IFRS.
The bottom line is down year on year from the 156.175 billion roubles profit posted for the FY 2009, with revenues increasing 27.5% year on year from 351.051 billion roubles posted for the FY 2009 to 447.532 billion roubles in 2010.
Sergey Vakhrameev, an analyst from Metropol, expects Transneft to increase capital expenditures on the back of continued East Siberia pipeline second phase construction.
"Transneft will hold a meeting today with sector analysts to announce company plans and clear all uncertainties. The company might present plans on future expenditures, projects and changes in relations with minority shareholders. This meeting is positive for company shares, while IFRS results will not lead to significant share price changes given that the company pays dividends according to RAS statements. One of the most interesting figure in IFRS of Transneft that might be questionable is 2010 CAPEX, which increased 10.7% year-on-year from 203.273 billion roubles posted for the FY 2009 to 225.119 billion roubles. I expect the CAPEX to grow gradually for another two years, backed by the unfinished construction of ESPL 2 that should pass through Irkutsk Region to the Pacific Ocean. After 2013, capital expenditures should deplete,"

Constantin Yuminov, oil analyst at Rye, Man & Gor Securities, said the results are better than expected
"The results align with our expectations with even more positive outcome of company revenue growth and strong operational margins. The company net debt compares with the result posted for FY2009 staying at the same level with 300.2 billion roubles debt burden.In this case, we believethat today'sTransneft meetingwithanalysts, first timeinits history,give a positivesign of increasingtransparency ofthe company."