Foreign retailers flock to Moscow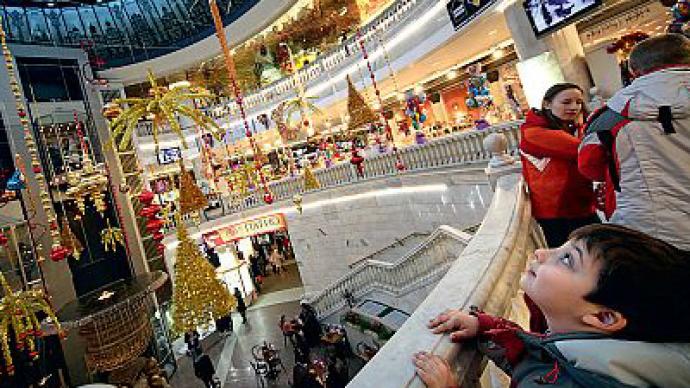 Moscow has been ranked one of the most attractive sites for foreign retailers, following London and Paris. Commercial real estate agent Jones Lang LaSalle say it is basically underpinned by the growing income of Moscovites.
Currently Russia's capital takes the 3rd place on the list, with London topping the ranking and Paris coming in second. All sorts of retail chains from all over the world are seeking solvent customers and "new growth territories," when most of the European economies are struggling in a downturn, said Maxim Karbasnikoff, Head of the Retail Department at Jones Lang LaSalle for Russia & CIS."Sustainable growth of the 15 million Moscovites' disposable incomes, has steadily boosted retail sales for the past 3 years," he went on, and the city is basically "the gate to a 140 million consumers market development," Karbasnikoff conceded.The USA was the major exporter of its brands, "accounting for almost 20% of all international retail presence," the report specified. Great Britain is the second largest "invader" followed by Germany, Spain and France.Among the freshmen in Russian retail are American Eagle Outfitters, underwear firm Victoria's Secret and DKNY. Some of foreign brands went beyond the borders of Moscow, with Britain's Dorothy Perkins opening up stores in St. Petersburg and Voronezh of Central Russia. Some of the international brands even chose to abandon franchises and settle down in Russia, according to experts from Colliers International consultancy agency. This includes mostly fashion houses and shoemakers, such as Hermes, Prada, Guess, Mango, as well as Promod and Ecco.At least ten more foreign brands are set to come to Russia's capital in 2012, Jones LaSalle added. The expected newcomers 2012 include British department store Debenhams, Noodle House restaurants, Seattle's Best Coffee, the Australian owned coffee chain Muzz Buzz, Brisket Express, doughnuts and coffee provider Krispy Kreme, clothiers Peek & Cloppenburg and Abercrombie & Fitch.The Scandinavian markets of Oslo, Helsinki, Gothenburg and Malmo, in addition to some UK, French and German regional cities remain underdeveloped and "will no doubt begin to feature on the radar for retailers seeking further international expansion," James Brown, Head of EMEA Retail Research at Jones Lang LaSalle, concludes.The Jones Lang LaSalle ranking is based on the analysis of 150 leading international retailers within 55 European markets.
You can share this story on social media: