Moody's cut ratings of five Spanish regions
Published time: 23 Oct, 2012 10:33
Edited time: 23 Oct, 2012 14:33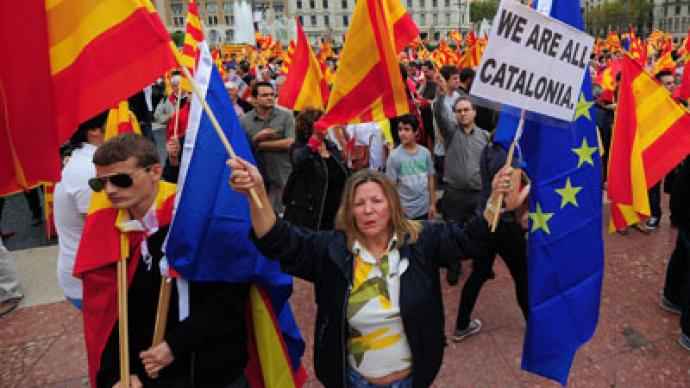 The US-based Moody's rating agency has lowered the credit rating of five Spanish regions including Catalonia and Andalusia, a week after it kept Spain's sovereign rating at the lowest investment grade.
­Catalonia, which accounts for a fifth of the Spanish economy, was downgraded by two steps to Ba3 from Ba1. Extremadura was lowered to Ba1 from Baa3, Andalucia was cut to Ba2 from Baa3, and Castilla-La Mancha was cut to Ba3 from Ba2, while Murcia dropped to Ba3 from Ba1.
The measure was "driven by the deterioration in their liquidity positions, as evidenced by their very limited cash reserves as of September 2012 and their significant reliance on short-term credit lines to fund operating needs," the agency said in a statement.
Besides that, "Catalunya, Andalucia and Murcia face large debt redemptions in Q4 2012 when retail bonds issued in 2011 are due to mature", Moody's said.
"The situation in the Spanish economy is stable, but fragile, it could deteriorate in a day or two, if Madrid leaves the regions without support," says Anna Bodrova, analyst at Investcafe. "But the country's government has enough money to cover the debts of two or three regions, while the others will have to seek a way out by themselves".

The downgrade of the regions' ratings comes ahead of Catalonia's referendum on Nov. 25 focused on whether to seek independence from Spain. Earlier this year the region requested a state lifeline of just over 5 billion euros.
A week ago, Moody's left Spain's sovereign rating unchanged at Baa3, one step higher than junk status. The agency explained that concerns about Spain losing market access have eased after of the European Central Bank expressed willingness to buy government bonds as a part of its effort to reduce yields.
Earlier this month Spain's credit rating was downgraded by American ratings agency Standard & Poor's by two notches, leaving it at the lowest investment-grade status, BBB-. Soon after that 15 national lenders saw their ratings slashed by S&P.