No referendum on Catalonian independence without Spanish approval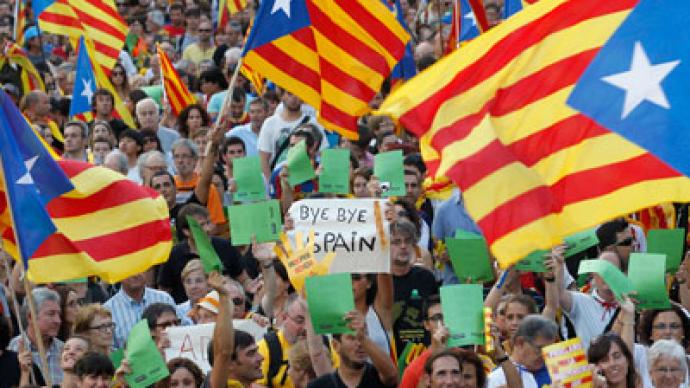 Spanish Deputy Prime Minister Soraya Saenz de Santamaria says Catalonia cannot hold an independence referendum without first consulting the rest of the country.
Her warning follows a vote by the Catalan regional parliament to hold talks on the region's independence.Eighty-four of the 131 regional lawmakers who voted backed the call for a "public consultation" on the "collective future" of the region.The vote was held minutes after the deputy prime minister told reporters he was prepared to halt any referendum.Consultations for Catalonia's 7.6 million residents will most likely follow snap regional parliamentary elections set for November 25, which are coming two years ahead of schedule. The motion did not specify the exact terms of the consultation.The motion was approved by Prime Minister Artur Mas' Convergence and Union (CIU) coalition and several smaller parties. Spanish Prime Minister Mariano Rajoy's conservative People's Party (PP) voted against the move, while the Socialists abstained.Mas had warned on Wednesday that he would stage the "consultations" on Catalonia's future regardless of Spain's wishes. His pronouncement runs contrary to the Spanish Constitution, which forbids  regions from holding direct referendums on independence.PP Secretary General Dolores de Cospedal warned that Madrid would do anything it could to halt the "illegal" vote, while Santamaria said the state would use every instrument at its disposal to stop the move.Catalonia, a semi-autonomous region in northeastern Spain which accounts for one fifth of the country's economy, has witnessed increased calls for independence as Spain remains mired in recession.The Spanish government announced a further round of austerity measures on Thursday that will see even more cuts to social programs paired with tax hikes.Many Catalans complain that they regularly pump money into the central government's coffers and get little back in return. Anger stems from the fact that Catalans regularly pay $15-20 billion more in tax revenues than they receive back in social spending and investment in infrastructure.Despite their relative wealth, Catalonia is also Spain's most indebted region. Due to the imbalance between the tax revenues provided by the region and its level of debt, the regional government asked Madrid for $6.2 billion in no-strings-attached financial assistance.Madrid balked at the proposal, prompting Catalan officials to call for a new financial regime which would see Catalonia manage its own taxes and transfer less money to other Spanish regions.After Mas was once again rebuffed by Rajoy, the clamoring for consultations regarding regional sovereignty became decidedly louder.  Hundreds of non-binding referendums have been held throughout Catalonia over the last three years; most people have preferred greater autonomy over outright independence.A massive 1.5 million-strong pro-independence march on September 11 revealed that popular sentiment was shifting towards a split from Spain, with the region being roughly divided on the question of secession.
You can share this story on social media: