​One - size - fits-all monetary policy key drag on Europe - Gaidar Forum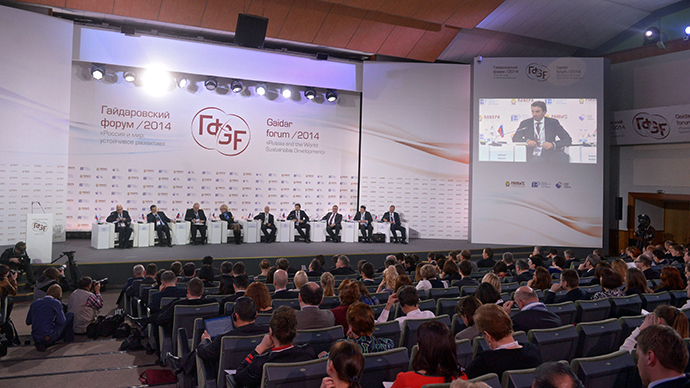 The crisis that plunged Europe into nearly 6 years of recession is to be blamed on the attempts to over-centralize monetary policy across such a diverse continent,have agreed economists at the Gaidar Forum in Moscow.
"It has never been a crisis of the euro currency, it's a crisis created by the euro," said Vaclav Klaus who served as President of the Czech Republic from 2003-2013. Klaus stressed that the euro itself has remained pretty strong during teh last 6 years.
"The crisis was created ... by one exchange rate, one interest rate, and one monetary policy" for the countries with such diverging economies, Klaus said.
"The EU welfare state atmosphere doesn't make economic growth possible. This ineffective economic system, the integration model based on the idea of close union, is another convincing proof of a central administered society. It leads to the weakening of democracy."
The gap between European north and south is constantly broadening, which is becoming really dangerous in social terms, added Mario Monti, the exPrime Minister of Italy from 2011 to 2013, leading a government of technocrats in the wake of the Italian debt crisis.
The jobless rate of the southern states like Greece with 27.80 percent, Portugal -15.60 percent and Spain - 25.98 percent is suffering a sky-high. Meanwhile the unemployment in the northern economic powerhouse Germany stands at 5.2 percent, according to Trading Economics data.
The crisis in Europe proved that the monetary policy applied across the bloc member states is damaging. "It's over regulated and protectionists, which doesn't allow the economy to develop", Klaus concluded.
The Gaidar Forum is one of the major annual international scientific conferences in the field of economy in Russia. Established in 2010 in the Forum is host in tribute to the memory of Yegor Gaidar, the leading Russian economist and reformer of the last decade of 20th century.
You can share this story on social media: