Eurozone ministers agree on 'final legal pillar' to create banking union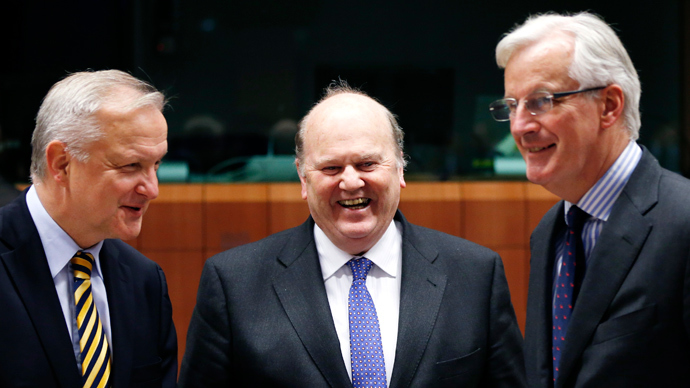 The eurozone finance ministers have agreed to create a 55 billion euro ($75billion) mutual fund financed by the banking sector to bail out failing lenders without using taxpayers' money.
It marks a crucial step forward on the way to create a banking union and is scheduled to begin in 2015.
"We have created the banking union's final legal pillar", commented German Finance Minister Wolfgang Schaeuble.
The whole idea of a banking union rests on three basic pillars.
The European Central Bank, that'll be monitoring the health of the union and be alert for coming dangers in the industry, will be the first pillar.
The "resolution authority" will cover the second part which means taking decision to bail out the problematic bank or to let it go bust.
The final pillar will be the common deposit guarantee which promises anyone who has a bank account in the eurozone up to 100 thousand euro ($138,000) will be replaced should a bank collapse.
The idea of creating a mutual banking union was to avoid bank bailouts and make a bank collapse a thing of the past.
"If we continue... on the path toward banking union then we will be able to continue the stabilization of the European currency as the basis for a return to stable growth in Europe," said Mr. Schaeuble.
Helping out banks in trouble, Europe has already spent 1.5 trillion euro ($2 trillion) during the financial crisis.
You can share this story on social media: