Economic development Ministry proposes steel export duties
Published time: 27 Jan, 2011 12:28
Edited time: 27 Jan, 2011 16:41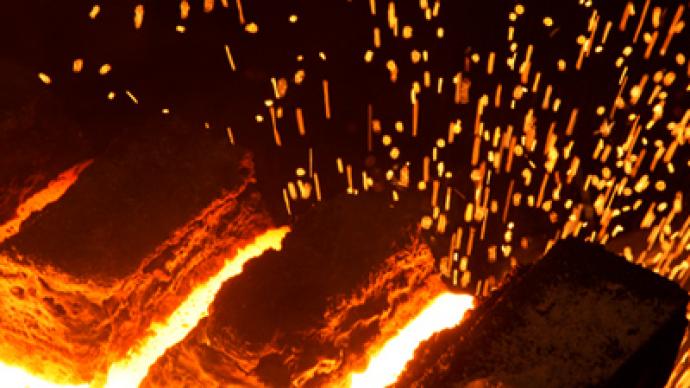 Russian Deputy Minister of Economic development, Andrey Klepach, has proposed a 10% export duty for flat-rolled steel and iron ore in the wake of rising domestic steel prices.
­The Ministry of Economic Development has offered to introduce two export tax schemes proposing 10% export duties for flat-rolled steel and 30% for iron ore, or an alternative including a progressive tax on steel with lower rates, and increasing the mining tax on iron ore from the current 4.8% to 8.8% instead of the export duty.

Marat Gabitov, Equity Analyst UniCredit Securities, says a new tax regime could cut steel producers investment plans.

"We see the news as negative for Severstal and MMK, as the two companies are Russia's biggest exporters of flat-rolled steel, with 45% and 35% shares of exports, respectively. Our rough estimates suggest that, all other things equal, the introduce 10% export duty on steel would result in a 10%-15% cut to EBITDA for both companies. Mechel could suffer from the export duty on iron ore, as it ships up to 4 million tones per year to China. Although, the negative effect may not be significant. In any case, we note that the steel lobby in Russia is quite strong and the introduction of additional duties could result in the scaling back local steelmakers' investment plans, and there fore we believe the chances that such duties will ultimately be introduced may be quite low."

The move is focused on increasing domestic supply and preventing price rises. However, Mikhail Pak, analyst at IC Aton says strong pressure from auto producers who are susceptible to sharp price rises also lays behind the proposal.
.
"Auto producers accused steel plants for their plans to increase prices for flat rolled steel for 40% which may lead to higher auto industry expenditures and inevitably affect retail car prices. AutoVaz flat rolled steel stocks are almost finished and production is on the edge of material shortage. Export taxes were not applicable to any steel raw material earlier except Non-ferrous metals. I think government is trying to equalize both sectors to resolve the dispute and prevent retail price soaring." 

AutoVaz has announced an average price increase of 4%, pointing to new fuel standard requirements. But steelmakers suggest that even a 20% increase on steel prices will have only 1% increases in retail car prices.

Domestic steel consumption has fallen in recent years despite significant growth in domestic car production. Russian steel producers exported over 1.7 million tonnes a month in the second half of 2010 while local supply volume remained at 1.4-1.6 million tones a month for the same period.

Airat Khalikov metallurgy sector analyst at Veles Capital believes the introduction of a new tax regime is a government response to pricing issues on the domestic market.  

"The decision to introduce export tax regime on iron ore and flat-rolled steel-major steel plants output products, was driven by auto industry complains and inappropriate price strategy on the local market. So to say Steel giants became too greedy spurred by recent foreign market demand growth and less profits on the local market. With strict government control steel producers forced to focus on local supply offering low prices comparing to export prices."  

The metallurgy sector and steel production have not yet reached pre crisis levels and the industry will face trouble and reduce output if forced to pay higher taxes, according to Khailikov, who adds that it could be seen as provocative to introduce export taxes in a period of industry rebound.

"It is reasonable to impose duties only in areas that receive excess profits. Higher prices have a negative effect on steel out put and industry recovery. Steel producers are still in debts, the volume of out put have not reached the pre crisis levels."