Market Buzz: Europe remains at the centre stage
Published time: 6 Jun, 2012 05:42
Edited time: 6 Jun, 2012 09:42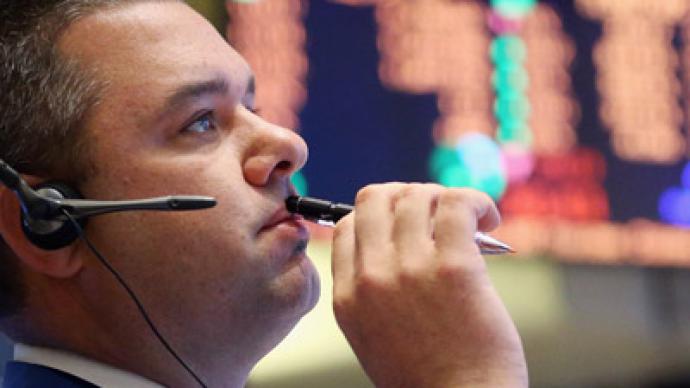 News from Europe will again play the major driver for world stocks on Wednesday, with all eyes on the meeting of the European Central Bank (ECB).
"The key event of Wednesday will be the session of ECB, by the end of which the investors count on hearing about new measures for stimulating the economy," Veles Capital analysts say. Until then the markets are expected to remain flat, they added.
Asian stock markets perked up Wednesday after U.S. service companies, which employ most of the American workforce, grew at a slightly faster pace in May.
Japan's Nikkei 225 rose 1% to 8,467.78 and Hong Kong's Hang Seng added 0.8% to 18,397.40. Australia's S&P/ASX 200 edged 0.3% up to 4,056.10. Benchmarks in mainland China, Singapore and Taiwan also rose.
On Tuesday, the Institute for Supply Management in the US said its index of non-manufacturing activity edged up to 53.7 last month from an April reading of 53.5, marking the 29th straight month of expansion for the sector. The indicator is important, sine the U.S. service companies employ roughly 90% of American workers.
While above 50 indicates expansion, analysts remained cautious about reading too much into the latest figure.
``Any improvement is good and growth is growth but 53.7 still falls short of the 55 mark that we've always regarded as the dividing line between earnest growth and aimless drifting,'' analysts at DBS Bank Ltd. in Singapore wrote in an email.
Trading in Russian stocks was mixed Tuesday. The RTS gained 0.52% to reach 1, 246.49, while theMICEX lost 0,68% to end at 1, 297.04.
The Russian rouble was bouncing back for the second consecutive day on Tuesday, after a sharp fall last week. The Russia currency finished trading at 33.05 against the dollar, recovering from Monday's new record low of 34.2. That was after Russia's Central bank calmed investors down, having released more dollars into the market.
Anyway, oil remains below $100/bbl, with Brent standing at $99.18/bbl and WTI being traded at $84.83/bbl.
"If we assume oil has some room to go down I think the rouble will follow the trend," Vladimir Tikhomirov, chief economist at Otkritie Capital, told the media.
In the U.S., trading volume was light and the stock moves were small. The Dow Jones industrial average rose 0.2% to 12,127.95, trading within a range of 75 points. The S & P 500 index closed marginally higher at 1,285.50. The Nasdaq composite index rose slightly to 2,778.11.
Finance ministers and central bank presidents from the world's seven wealthiest nations held an emergency conference call Tuesday to discuss ways to deal with Europe's debt crisis.
Leaders are worried that Spain and Cyprus, which are scrambling for money to prop up their troubled banks, will soon need to be bailed out by their richer counterparts. Anyway, the call didn't yield a blueprint for action, at least not publicly. More clarity is expected later this month, after Greece holds elections June 17.
European stocks closed mixed. The DAX in Germany slipped 0.2%, while France's CAC 40 rose 1.1%. London's stock market was shut in celebration of the Queen's Diamond Jubilee.
Traders also said a decision by the Reserve Bank of Australia on Tuesday to lower its benchmark interest rate by a quarter percentage point to 3.5% stoked hopes that central banks elsewhere would do the same.