New car deals underline Russian manufacturing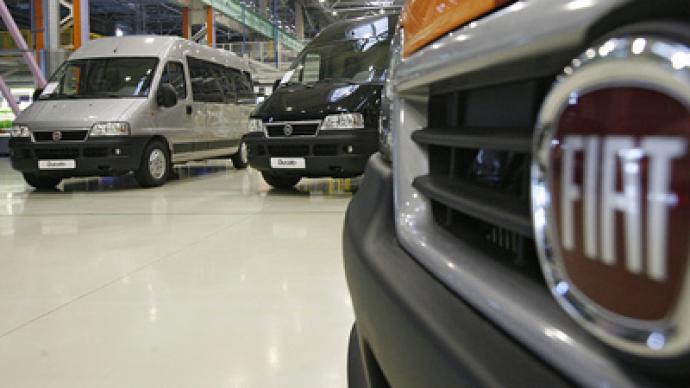 Japanese car manufacturer Mazda and Italy's Fiat are to spend $80 million and $1.1 billion respectively to start assembling cars in Russia.
Dmitry Levchenkov, who directs the Special Economic Zones Department at the Ministry for Economic Development, said Mazda plans to produce 25,000-30,000 vehicles a year in Russia's Primorsk Territory, adding that that the deal came within the framework of "old regime" assembly, which means that 30% of the components will be manufactured locally.Elvira Nabiullina, Russia's Economic Development Minister, announced on Thursday that Fiat also aims to start making its cars in Russia, with a planned annual output of 120,000 cars a year. In contrast to the Japanese deal, this agreement will follow the "new regime", which means foreign manufacturers will be allowed to bring their own components into Russia duty-free, provided they localize 60% of their production by 2020. In addition, the new regime will bind foreign players to invest at least $500 million into Russian projects and make at least 300,000 vehicles a year. The current terms specify production of 25,000 cars annually. Sergey Udalov, Deputy Director at Avtostat analytical agency, notes that such deals trigger development in a number of related industries."In fact, the auto industry acts as an engine for overall economic development, as deals of this kind revive and develop other sectors, like chemical production and metallurgy, with new types of metal coming to the market."Udalov was optimistic about the future of Russia's car market and said that, given the growing number of deals between foreign and domestic auto makers, almost all vehicles would be produced in some sort of co-operation with a foreign brand in the near future."I expect auto production in Russia to grow from 1.8 million cars in 2010 to about 3 million in 2014 – 2015, which will mostly be done in co-operation with foreign automakers. Already last year more than 50% of cars made within Russia had a foreign brand."Troika Dialog car manufacturing market analyst, Mikhail Ganelin, also noted the interest of international players in the Russian auto market, adding that the final aim for Russia was to create a full fledged automotive cluster, with both vehicles and their components being produced within the country.In early June, Russia's Economic Development Ministry signed four agreements with carmakers with total investment forecast at over $5 billion.Among the companies that will need to comply with the new rules arethe Sollers-Ford consortium($1.2 billion ininvestment),VW($900million), GM($1billion)anda consortium ofAvtoVaz,Renault,Nissan, IzhAvto, KamAZ and Mercedes (up to $2 billion in investment).
You can share this story on social media: