Market Buzz: Lull before the strom
Published time: 14 Jun, 2012 04:20
Edited time: 14 Jun, 2012 08:21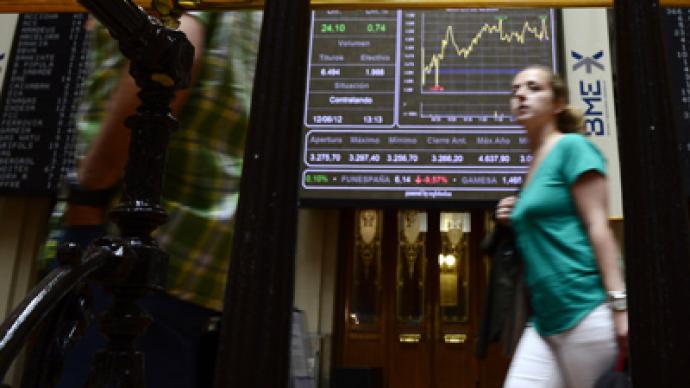 Investors are keeping their hands on the sell button with Spain under the threat of more downgrades, and weekend elections in Greece that may lead to the country leaving the eurozone.
­"Concerns over the outcome of the Greek elections at the weekend will keep investors from making any big moves," says Aleksei Malikov from investment group Trade Portal.
Asian stocks are losing ground this morning following a retreat in Wall Street overnight, with investors digesting weaker US retail sales data and nervously anticipating the elections in Greece.
Japan's Nikkei Stock Average declined 0.6%, South Korea's Kospi inched lower by 0.1%, the Hang Seng Index fell 1% and China's Shanghai Composite lost 0.8%.
In the US the Dow Jones Industrial Average fell 0.6%, the S&P 500 Index 0.7% and Nasdaq Composite lost 0.9%. The Commerce Department reported retail sales fell 0.2% in May in line with the prior month's revised percentage drop, as limited job and income gains hold back consumers.
Oil traded near its lowest close in eight months in New York before OPEC meets to discuss production quotas amid talks the group won't cut output as the global economy weakens.
European markets were mixed on Wednesday, with investors nervously anticipating the second round of elections in Greece this weekend. Spain's debt has also remained a hot topic.
Spanish borrowing costs rose to their highest level since the country adopted the euro, as the upbeat sentiment that followed the €100 billion EU bailout of its banks continued to wane.
Late on Wednesday, Moody's Investors Service downgraded Spain's sovereign-debt rating to Baa3 from A3, placing the country on review for a possible further downgrade following last weekend's announcement that Spain will borrow up to €100 billion to support its banking sector, coupled with the country's limited financial-market access and increasingly vulnerable economy.
Spanish Prime Minister Mariano Rajoy urged European leaders to take immediate action to counter the rising volatility hitting European markets, asking the European Central Bank to take measures to ensure financial stability. 
Italy's borrowing costs surged at the sale of its one-year treasury bills with investors surrendering to concerns that the country may be the next to seek a bailout. 
Even yields on safe-haven German bonds rose in Germany amid the uncertainty. 
The drop in eurozone industrial production also weighed negatively on investors.
Germany's DAX finished down 0.14%, in France the CAC 40 lost 0.55%, while the UK's FTSE 100 rose by 0.18%.
In Russia the markets managed to finish in the black. Following volatile trading amid Europe's problems the RTS gained 1% and Micex was 0.6% higher on Wednesday.