Market Buzz: Digesting the gloom
Published time: 6 Jul, 2012 06:37
Edited time: 6 Jul, 2012 10:37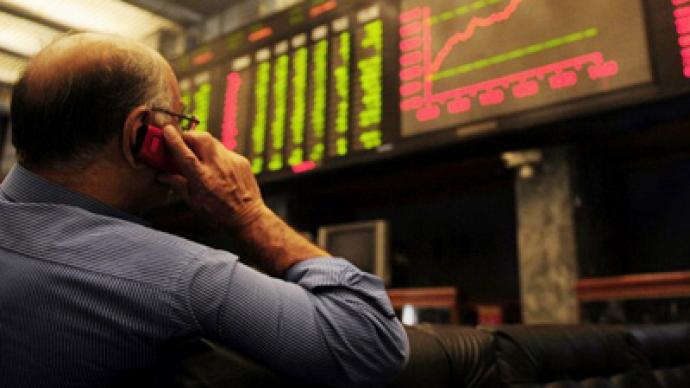 Investors remain cautious after major central banks around the world unveiled monetary easing measures while the ECB president did little to ease their concerns.
Central banks in every corner of the globe announced monetary easing measures on Thursday to give a boost to their economies. As expected, the Bank of England launched a third round of monetary stimulus. The European Central Bank cut its main interest rate to a record low of 0.75% and its deposit rate to zero. However, after the ECB cut rates, the central bank's president Mario Draghi shook investor confidence by saying downside risks to the euro-area growth outlook have materialized.
Asia markets are seeing losses in early trade on Friday after a raft of measures by central banks added to the list of global growth fears. 

Japan's Nikkei Stock Average shed 1%, South Korea's Kospi dropped 1.1%. In China, Hong Kong's Hang Seng Index lost 0.5% and the Shanghai Composite Index took a 0.6% dip.
US stocks finished lower on Thursday as investors digested a disappointing report on the services sector along with worries about global economic outlook, spurred by three central banks' moves to lower borrowing costs.
The Dow Jones Industrial Average was down 0.36%. The Nasdaq Composite was flat. The S&P 500 Index declined 0.5%.
Last month the US service sector expanded at the slowest pace since January 2012, according to data released on Thursday. Investors are anticipating the Federal Reserve to take action to boost growth at its meeting later this month. However, positive US employment data eased expectations for further measures by the Fed. The US Labor Department said the number of individuals filing for initial jobless benefits in the week ending June 30 fell to a seasonally adjusted 374,000, compared to expectations for a decline to 385,000.
In Europe stocks closed mixed on Thursday. The FTSE index closed up but off session highs on Thursday as markets fretted over global growth prospects, despite moves by central banks to boost flagging economies. Germany's DAX was down 0.5%.
Russian stocks tumbled for the first day in five on the gloomy news from Europe as oil decreased. The Micex Index declined 0.6%. The dollar-denominated RTS Index slid 1.4%.
"We can expect a  sell-off spurred by rising worries about the global economy," says Mark Bredford a BCS group analyst.