Market Buzz: Upbeat on hopes aide is on the way
Published time: 20 Jul, 2012 05:17
Edited time: 20 Jul, 2012 09:17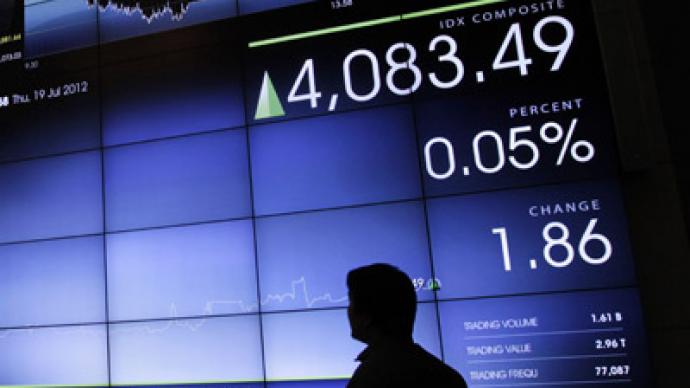 World markets are likely to see a cautious start on Friday, digesting mixed global cues.
Asian markets were lower on Friday, taking a pause after large gains made in the previous trading session. Strong US corporate earnings were tempered by weaker employment data, with investors hoping the US Federal Reserve would take more steps to stimulate the economy.
Japan's Nikkei Stock Average lost 1.03%, South Korea's Kospi inched higher 0.14%. In China, Hong Kong's Hang Seng Index rose 0.18% while the Shanghai Composite index lost 0.42%.
US stocks finished higher on Thursday, as strong corporate earnings and a German approval for Spain's banking sector bailout, overshadowed weak economic data. Ahead of the opening bell, the Labor Department reported that US jobless claims rose 34,000 last week to 386,000. Another disappointment was the Philadelphia Federal Reserve statement that an index tracking regional manufacturing activity improved to a negative 12.9 reading in July.
While the US stocks initially retreated on weak economic data, they managed to stage a recovery by the end of trading as investors hoped the weak data would push the Federal Reserve to step in with further monetary stimulus.
The Dow Jones Industrial Average ended up 0.3%, the Standard & Poor's 500 gained 0.3%, while the tech-heavy NASDAQ added 0.74%.

European progress on approving a Spanish aid package to banks also bolstered US stocks.
Germany's lower house of parliament, the Bundestag, on Thursday approved the country's participation in a 100 billion euro ($122.9 billion) package of aid for Spain's ailing banking sector.
However, European markets are yet to digest the news as it was revealed after European markets close.
European stocks closed higher as positive US corporate results and hopes of fresh stimulus measures offset another batch of disappointing US jobs figures.

In London, the FTSE 100 index closed up 0.50%. In Frankfurt, the DAX 30 rose 1.11%. In Paris, the CAC 40 gained 0.87%.
"European indices have once again been propped up by the prospect of renewed stimulus from central banks as the IMF joined the rallying cry from investors for the likes of the BOE, ECB and Federal Reserve to ramp up their efforts to save gradually slowing economies" said Angus Campbell, Head of Market Analysis at Capital Spreads.
Russian markets closed higher on Thursday amid positive global news with metal and mining shares among the strongest performers. The MICEX gained 0.67% and the RTS was up 1.68%.