Market Buzz: Investors breathe again after Greek elections
Published time: 18 Jun, 2012 05:33
Edited time: 18 Jun, 2012 09:33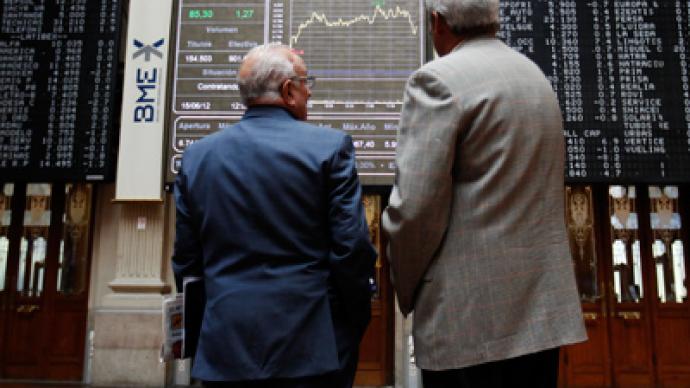 Russian markets are likely to open higher on Monday as the clear victory by Greek's pro-bailout parties easies fears about the probable "Grexit".
­Russian stocks rose on Friday amid positive sentiment on the global floors. The MICEX gained 2.17% and the RTS added 2.48%. Soaring oil prices also contributed to the growth of Russian indices.
US stocks closed higher on Friday as Mario Draghi, head of the European Central Bank, said global central banks were ready for joint action to provide liquidity if needed after Greek elections. The Dow Jones rose 0.9%, while the S&P 500 Index added 1% and the Nasdaq Composite climbed 1.3%.
European shares rose on Friday on optimism that central banks would intervene to deal with the potential Grexit. Germany's DAX 30 rose 1.5% and France's CAC 40 climbed 1.82%. Meanwhile Italy's FTSE MiB soared 2.34% with a pressure on Italian bonds appeared to ease.

Asian markets soared on Monday after Greece's pro-bailout party appeared likely to win in national elections and keep the country in the eurozone. South Korea's Kospi grew 2%, while Japan's Nikkei Stock climbed 1.8% and Australia's S&P/ASX 200 index soared 2%. In China, Hong Kong's Hang Seng rose 1.5%, and the Shanghai Composite added 0.7%.