Market Buzz: Investors bearish ahead of Spain austerity announcement
Published time: 27 Sep, 2012 05:41
Edited time: 27 Sep, 2012 09:41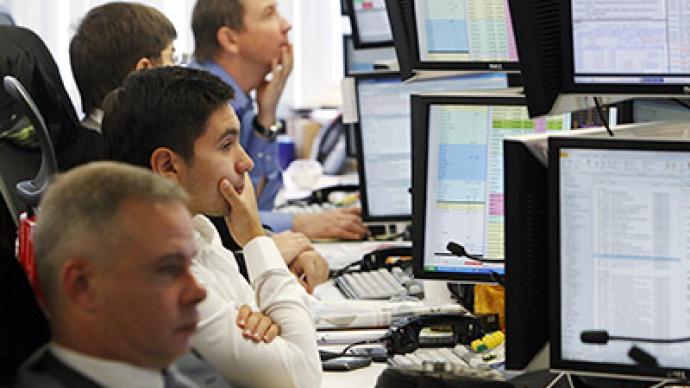 Russian markets are expected to trade lower Thursday as investors wait for the Spanish government to announce new austerity measures later in the day.
­Meanwhile, auditors from the Oliver Wayman consulting firm are also expected to deliver a report on Spain's banks on Thursday.
European stock markets fell sharply on Wednesday amid escalations of anti-austerity protests in Spain and Greece. The Stoxx Europe 600 dropped 1.8%. Yields on 10-year Spanish government bonds jumped to 6.03%, while the country's IBEX 35 sank 3.9%. Germany's DAX 30 fell 2% due to losses in the banking sector, and the French CAC 40 fell 2.8%.

US stocks posted losses Wednesday, with investors concerned by the austerity unrest in Europe. The Dow Jones fell 0.3%, the S&P 500 shed 0.6% and the Nasdaq lost 0.8%. Crude futures also saw further losses, dropping below $90 a barrel.
Russian equities fell Wednesday amid declines in global markets and falling oil prices. The MICEX shed 2.5% and the RTS lost 3.5%.

Asian markets rose after trading lower during the early session Thursday. Hong Kong's Hang Seng added 0.5% and China's Shanghai Composite gained 0.3% with strong performances in the financial sector. South Korea's Kospi advanced 0.3% and Australia's S&P/ASX 200 added 0.2%, supported by resource trades. Japan's Nikkei shed 0.1%, weighed down by losses in tech stocks.