Market Buzz: Calm continues for now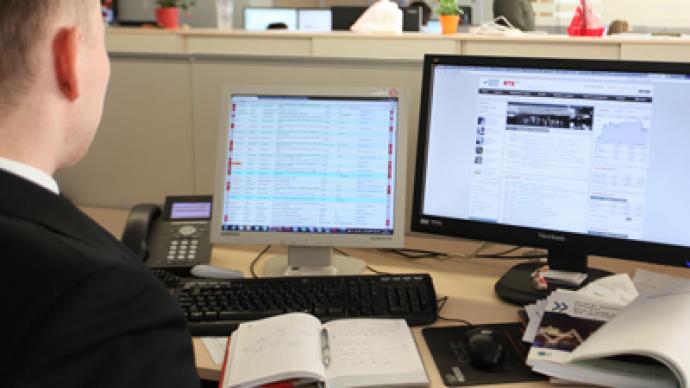 Russian markets are expected to continue their upward trend in line with generally positive global gains. However, higher volatility isn't ruled out, experts say.
"There are no serious reasons to be pessimistic as the primary concerns, such as the second bailout for Greece, have been solved," says Elena Kozhukhova from ATON invest company. "Markets will be looking for new drivers, mostly among macroeconomic data, throughout the day," she continued. Russian shares traded in the black on Wednesday, riding the wave of global optimism. The MICEX ended up 1.19%, and the RTS gained 1.28%. Russian car producers were among those making gains, as AvtoVAZ added 4.66%, KAMAZ gained 4.01%, and Sollers jumped 7.97%. The Banking sector, including Sberbank (+2.78%), also performed well.European stocks closed higher on Wednesday after Italy managed to sell 6 billion euros of bonds at a debt auction, paying the lowest three-year yield since October 2010. The sentiment was also supported by positive news from the US Fed. The Stoxx Europe 600 rose 0.3%, reaching its highest level since late July.German DAX 30 gained 1.2%, supported by gains made by Deutsche bank (+3.4%) and Commerzbank (+2.6) Germany's biggest utility E.ON also surged 7%.U.S. market traded mostly in the black Wednesday, with the Dow Jones gaining for the sixth session in a row. The Dow Jones rose 0.1% and the Nasdaq Composite climbed 0.1%, winning back earlier losses, while the S&P 500 ended nearly flat. The PPI for February will be issued later on Thursday.Asian stock markets mostly traded lower on Thursday. Australia's S&P/ASX 200 lost 0.5%, as Hong Kong's Hang Seng and China's Shanghai Composite each lost 0.4%. While South Korea's Kospi edged down 0.2%, Japan's Nikkei Stock showed slightly more positive news, growing at 0.4%.
You can share this story on social media: