Market Buzz: Awaiting Fed interest rate decision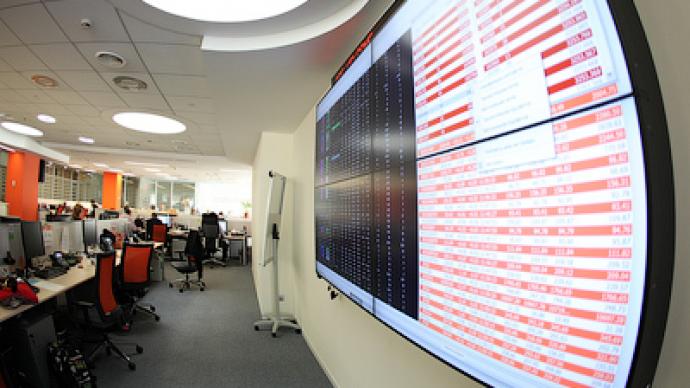 Russian investors have their eyes on the US Federal Reserve as its chief Ben Bernanke define the Fed's interest rate policy. Though no sharp announcements are expected, traders are waiting to see if Fed expresses confidence in the economic outlook.
Domestically, the markets are driven by oil prices and positive start of Asian trade.Oil prices expected to pick up correcting Monday's slight losses. Brent went down by about 1.2% to $123.7/bbl on Monday.The biggest company news of the day is the resignation of Rusal's head of board Viktor Vekselberg. The aluminium producer's shares stopped trading Hong Kong due to their sharp fall. Meanwhile the Hang Seng Index rose 0.78%.The decision came as a result of major disagreement of Mr Vekselberg with the company's development policies."…UC Rusal is presently facing a deep crisis, as a result of which UC Rusal has, in my opinion, deteriorated from an international aluminum leader into a company overburdened with debt and entangled in numerous lawsuits and social conflicts," Victor Vekselberg commented in his address to the company board. Vekselberg held the post since the creation of Rusal in 2007.Russian indicies – the RTS and the MICEX – closed Monday session in the red, losing 0.41% to 1, 714.17 and 0,13% to1,604.26 accordingly.Polyus Gold grew the fastest, up 4.5%, with Transneft also outperforming the market. Experts assume that came on the back of initiative from Russia's Ministry of Economic Development that said that state companies should pay 25% of their net profit calculated according to International Reporting Standards in dividends.The news from China – the largest trade deficit in over 22 years -was also weighing on investor sentiment on Monday. US stocks demonstrated mixed dynamics, with Dow Jones Industrial Average going up 0.1% to 12,933. Meanwhie, Standard & Poor's 500 went down 0.2% to 1,368 and Nasdaq Composite fell 4.7 % points to 2, 984.And EU markets had a pretty lack luster day with both the FTSE and the DAX posting very modest gains. The British FTSE 100 was down 0.2 % at 5,874 while the CAC-40 in France fell 0.4 % to 3,474. Germany's DAX was flat at 6,882.
You can share this story on social media: