Market Buzz: after a red close on Wednesday, Russian indices on the rise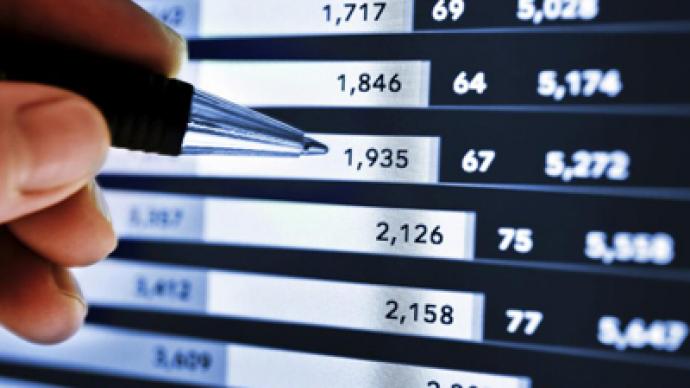 Analysts are talking up a recovery on Russian markets after yesterday's dizzying drop, which was steeper even than the decline in Western stocks.
MFC analyst Anton Zhukov thinks Russian trading floors will open in the black due to attractive blue chip prices.
Initial optimism at yesterday's session caused by up-front economic data from the USA and Germany did not last long. MYCEX was first to go red with RTS following swiftly on European market uncertainty. MYCEX lost 1.75%, closing at 1385.17, and RTS went down to 1382.50, losing 0.95%.
Cerih Capital Management analyst Andrey Vernikov says Wednesday's initial indices leap indicates that the market is eager to grow, but is being held back by investors' reluctance to risk and settle the profit after previous essential growth.
US stocks swung to a slightly higher close Wednesday. The Dow Jones Industrial Average ended up 4.16 or 0.03%, at 12,107.74, after spending most of the session lower. Gains for the other benchmarks were also limited by worries about the consequences of the European Central Bank's recent lending program.
In London, stocks gave up early gains and finished lower on Wednesday. The FTSE 100 fell 0.6% to close at 5,389.7. Essar Energy PLC was the biggest loser, sliding 3.4%.
Today, data on USA and GB GDP growth is expected, as well as the primary unemployment benefits application data.
Oil price growth is supported by the API report that US oil reserves have shrunk during the week and a threatened embargo on Iranian oil imports. Brent oil brands have risen to $107.338 per barrel and Light is selling at $98.428.
Rising oil prices have also strengthened the Russian rouble. Yesterday, MICEX closed with the US/RUR exchange rate at 31,7200 rouble for the dollar, compared with 31,9500 roubles the day before yesterday. The EUR rate has dropped to 41,3875 roubles in comparison with Tuesday's 41,9000 roubles.
Asian markets showed a decline in today's early trading. Hong Kong's Hang Seng Index lost 0.6% and China's Shanghai Composite shed 1% in early moves.
Cerih Capital Management analyst Nikolay Podlevskih thinks the markets will go into low-liquidity pre-Christmas hibernation.