Market Buzz: Stocks trade mixed ahead of Fed's QE decision
Published time: 19 Jun, 2013 08:05
Edited time: 19 Jun, 2013 10:33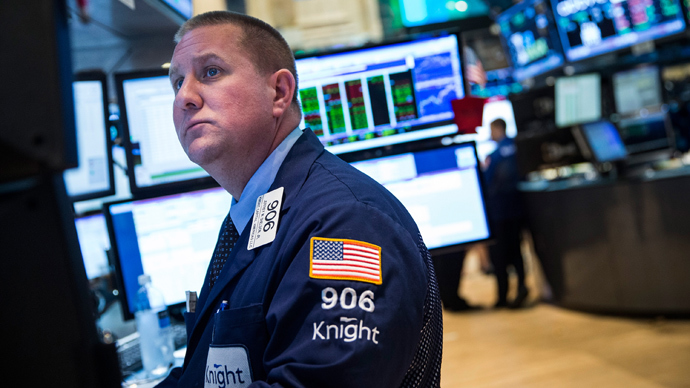 Little movement is expected Wednesday, as markets worldwide are eagerly anticipating a decision on stimulus policy by the US Federal Reserve. The Fed may announce changes to its monetary policy after a two-day meeting.
The Federal Open Market Committee (FOMC) will decide whether the Fed will begin drawing down its $85 billion monthly bond-buying program as the economy shows signs of picking up, or whether it is still too early to end the stimulus measure.

Russian floors traded mixed on Tuesday amid growing oil prices, a weakening ruble and the release of controversial macroeconomic data: The MICEX closed up 0.74 percent to 1,335 and the RTS closed flat at 1,314. Despite better-than-expected economic data from Germany and gains on Wall Street, European shares close in mixed territory on Tuesday.

The UK's FTSE 100 added 0.69 percent to end at 6,374.21, the German DAX 30 added 0.17 percent to close at 8,229.51, and the French CAC 40 slipped 0.08 percent to close at 3,860.55. Stocks in Italy traded flat, while Spain's IBGM rose 0.54 percent. US stocks climbed on Tuesday, with investors apparently optimistic about the FOMC: The Dow finished up 0.9 percent at 15,318.23, the S&P 500 added 0.8 percent to 1,651.81 on strong gains in industrial stocks, and the Nasdaq climbed 0.9 percent to 3,482.18.

US housing starts rose 6.8 percent last month, according to fresh data, and US consumer prices were slightly higher in May. As investors look to Wednesday's decision from the FOMC,

President Barack Obama hinted that Fed Chair Ben Bernanke will likely retire when his term ends in 2014.
Asian markets traded mostly lower on Wednesday, with investors eying the FOMC: Hong Kong's Hang Seng, Mainland China's Shanghai Composite and South Korea's KOSPI all traded in the red.

The Hang Seng slipped 1.2 percent to 20,966.89 and the KOPSI dropped 0.9 percent to 1,884.03. Stocks in New Zealand, the Philippines, Singapore and Indonesia also fell. Tokyo enjoyed another rally on a weaker yen, and reports showing export growth, with the Nikkei rising 0.8 percent to 13,113.59.

Australia's S&P/ASX 200 index climbed  0.7 percent to 4,848.10, while benchmarks in Taiwan and Thailand also rose.

Oil is currently up, with Brent adding 0.15 percent to $106.10, and WTI adding 0.2 percent to $98.80.