Market Buzz: Russian markets to fall before long weekend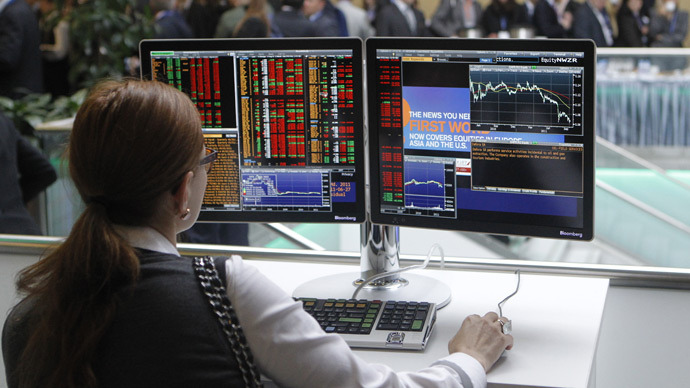 On March 7 a sharp decline of trading activity can be expected on the Russian floors ahead of International Women's Day, a Public Holiday for Russians. Hence investors will miss Friday's main report of the week.
US economic growth with the Dow hitting a record high positively influenced Russian bourses on March 6. Wednesday's session ended in the black. However new data on eurozone GDP, which dropped by 0.6% over Q4 2012 according to Eurostat, weakened the EUR/USD pair, while also limiting Russian market growth.

Russian stock indices demonstrated positive dynamics over Wednesday's session, with the MICEX having added 0.49% to 1491 basis points and the RTS having grown by 0.39% to 1529 points. Both indices finished in the black for the second consecutive day.

European stocks closed down on Wednesday. The FTSE 100 dropped by 0.06%, the CAC 40 declined 0.35%. Only the German DAX went up, adding 0.62%.

The US markets closed mixed on Wednesday, with the Dow rising into record territory and hitting 14,296 basis points, with 0.3% growth. The Nasdaq slightly retreated 0.7%. The S&P 500 also demonstrated moderate growth of 0.08%. Investors reacted to strong economic data which revealed that more jobs were added than expected in February.

A factory order report also showed the manufacturing sector holding steady despite a headline number which showed a decline in factory orders for the month of January due primarily to a plunge in aircraft orders.

Brent oil lost almost $1 on March 6, dropping 0.9% to US$109.98.

The death on of Venezuelan President Hugo Chavez, head of the state that sits on the world's second-largest oil reserves, has had little immediate effect on the price of oil so far.

Asian shares fell after two strong days of gains on Thursday, as investors focused on meetings of the central banks of Japan, Britain and the eurozone for signs of more policy stimulus. The Nikkei added 0.6%.

On March 7 investors will also be expecting data on January's industrial orders from Germany. The Commerce Department will issue data on the US trade balance in January, expected to show the nation's trade deficit. Also the Labor Department will report weekly initial claims for unemployment benefits, a sign of the pace of layoffs.

You can share this story on social media: