­Market Buzz: Stocks fall sharply on European news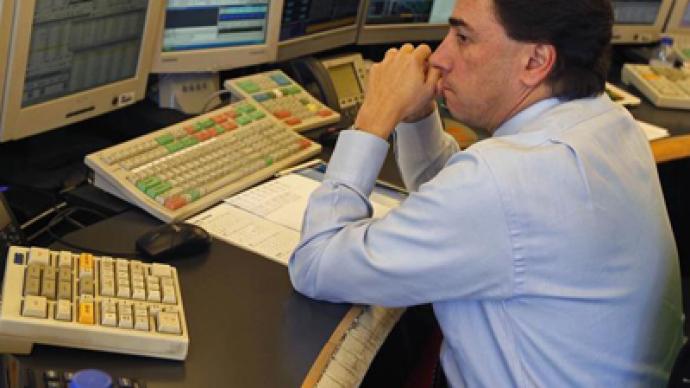 World markets reacted strongly to resurfaced concerns about political instability in the European zone.
Russian markets traded slowly on Monday and finally slid into the red at closing, where they are expected to open Tuesday morning. The MICEX was off 0.77% and the RTS fell by 0.94%.
European markets sank sharply on Monday.  Corruption allegations against the Spanish prime minister and a banking scandal in Italy saw France's CAC 40 slid by 3.01% and Germany's DAX dropping by 2.49%. London's FTSE 100 dropped 1.58%
US stocks saw their worst drop of the year on Monday, also affected by European politics. The Dow Jones fell 0.93%, the S&P 500 dropped by 1.15% and the NASDAQ slid 1.51%.
European tensions reached Asian stocks which are also falling on Tuesday trading. Japan's Nikkei and Hong Kong's Hang Seng both losing 1.6%, while China's Shanghai Composite showing slightly better dynamics going lower by 0.40%. Australia ASX went down 0.30% and South Korean dropped 0.7%.
Hopes are high stocks will struggle for direction this week as US corporate earnings season comes to an end and the flow of economic data is going to ease. ISM Non-Manufacturing PMI is awaited to be released in the United States later on Tuesday.
In Europe PMI in service sector is due to arrive later in the day and is expected to maintain its position at the 48.3 mark. Composite PMI in the eurozone is hoped to remain unchanged. Data on retail trade volume in EU will be also published on Tuesday. It is expected to come in 0.5% lower than the previous month and, if expectations go wrong, it could boost stock indices.
Oil prices show light dynamics with Brent falling 0.8% to $114.9 per barrel and Light remaining at the US$97 mark.
You can share this story on social media: