Market Buzz: Russia to bounce back from 'political' losses
Published time: 19 Jul, 2013 06:31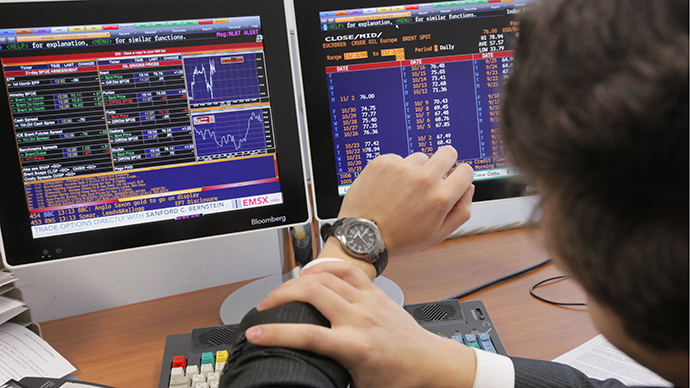 The high profile trial of anti-Putin opposition leader Aleksey Navalny triggered momentous losses on Russian floors, which investors will look to take advantage of before the weekend.
After climbing 1.5 percent on Wednesday, the Russian MICEX dropped 1.1 percent, closing at 1,416.63 and the dollar-based RTS index slid as much as 1.52 percent during day trading, and closed at 1,377.35.

The ruble weakened against the dollar nearly 0.5 percent and state-owned banks and oil companies posted significant losses. Gazprom and Rosneft, Russia's flagship energy companies, lost 2.17 percent and 1.32 percent, respectively. Crude oil performed poorly on the Russian floors, but recovered in New York.

Oil futures approached year highs on US trading floors, but are trading slightly lower on Asian floors. WTI is trading down 0.5 percent at $107.99, just shy of $108 per barrel, and Brent is trading up 0.5 percent at $108.75 per barrel.

Oil prices will continue their ascent in tandem with US economic recovery, as the world's largest oil consumer expands and as jobs (195,000 in June), prices will climb.

At market close, both the Dow Jones the S&P index finished up 0.50 percent, and the Nasdaq index increased 0.04 percent. A floor leader was Bank of America, which, after reporting its 70 percent earnings, rallied 3.21 percent in New York. The dollar continues to make cautious gains following Bernanke's remarks.

On the other side of the pond, European markets traded mostly higher. The EURO STOXX 50 is on the rise, up 1.35 percent at 2,717.99, France's CAC 40 has advanced 1.44 percent to 3,927.79, and the DAX is rallying at a 1.0 percent gain, trading at 8,337.09. Britain's FTSE 100 is up 2.28 percent at 16,053.61.

The euro zone will release industrial production data on Friday.

Asian stocks could be slowed on the not so stellar earnings reports of American tech companies. The Nikkei is down 2.4 percent and the Hong Kong 40 has slid 0.64 percent.

ASX 200 slumped at first, but has recovered and rose 0.90 percent to 3,513.13. The Australian market faces volatility on home loans demand data, to be released today.