Market Buzz: Ruble at risk on weak crude oil
Published time: 24 Jul, 2013 06:38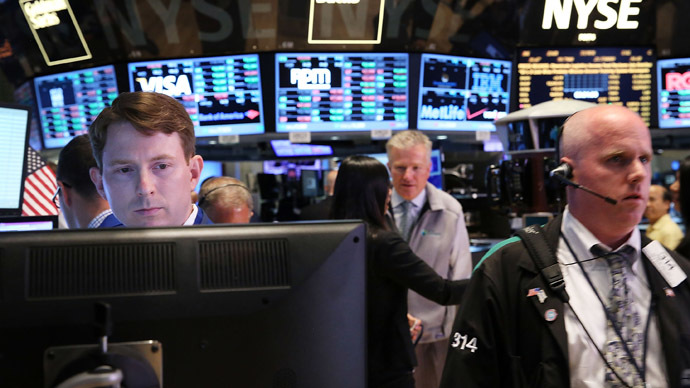 Russian floors will look to build on Monday's steady upward headway, as the MICEX added 1.16 points, closing at 1,417.34 and the dollar-based RTS index gained 0.35 percent, closing at 1,379.88.
Gazprom, the world's largest oil extractor, and Russia's top energy company, could face a challenging day on Russian trading floors, as they missed Forbes' 'Top 50 Company' list, tumbling to 57th place.

Crude oil, Russia's top export earner, is down. WTI fell 0.28 percent to $106.93 per barrel and Brent lost 0.22 percent and is trading at $108.18 per barrel.

Lower crude prices weakened the ruble against the dollar, which is down 0.1 percent at 32.29, retreating from its 1.0 percent gain in the previous week.

At the close of US trading, the Dow Jones Industrial Average climbed 0.15 percent, the S&P 500 fell 0.19 percent, and the NASDAQ dipped 0.59 percent. The Dow was propelled by Travelers Co., a property insurer, which reported a second-quarter profit increase of 85 percent.

European floors have a lot of economic indicators to watch today. The eurozone will release manufacturing and service sector data, the UK will release industrial order expectations, and Germany and France will produce individual economic reports.

Europe's benchmark indexes are struggling. Germany's DAX rose for the first time in three days, but has dipped 0.2 percent to 8,314.23. The Euro Stoxx 50 is trading down 0.09 percent at 2,722.90, and France's CAC is down 0.43 percent at 3,923.09.

Conversely, London's FTSE 50 is up 0.03 percent, 5.03 points up from previous close.

Most Asian stocks fell Wednesday on disappointing manufacturing data from China, the world's second-largest economy.

Japan's Nikkei fell 0.58 percent and is now down 0.32 percent at 14,731.24. The Shanghai Composite index slid 0.92 percent

Australia's ASX 200 continues its strong July session, and is up 0.28 percent at 5,031.10. Consumer price inflation rose less-than-expected in the last quarter to 0.4 percent, and not the predicted 0.5 percent. Year-on-year, the CPI is 2.4 percent, which falls in line with the central bank's target between 2 and 3 percent.