Market Buzz: Chinese economic promise to drive growth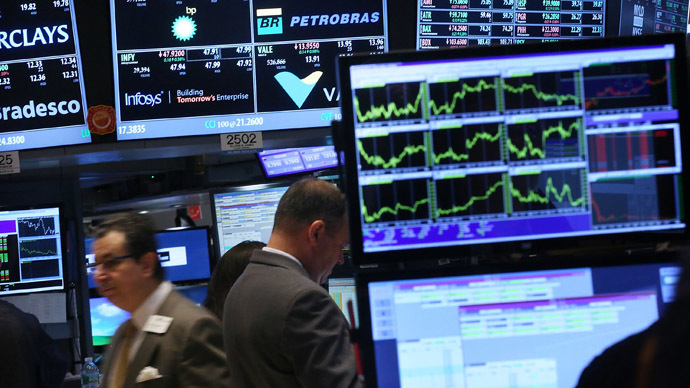 Russian floors could react to strong Chinese optimism, but will need to make haste if they aim to recover week-on-week following last Thursday's political nosedive in reaction to the imprisonment of Aleksey Navalny, an opposition leader.
The MICEX has gained  0.8 percent to 1,416.61, and the dollar-based RTS index improved, and closed at 0.47 percent to 9586.16.

Ruble futures still show the currency weakening 0.13 percent against the US dollar, after gaining 0.8 percent last week.

On Monday, WTI and Crude traded very close to one another at the $108 per barrel mark, with WTI trading at 107.08, up 0.13 percent, and Brent slightly gaining 0.9 percent at 108.25. Mild summer temperatures may drive down demand and price on today's floors.

New York floors continue rallying on strong Q2 earnings results, but gains have mitigated. The Dow Jones finished up 0.01 percent, the S&P 500 ended high at 0.20 percent, and the NASDAQ climbed 0.36 percent.

Recovery in the US housing market was reinforced as house prices jumped 13.5 percent year-on-year. Sales have increased 12.5 percent also year-on-year,

On the other side of the pond, European markets are rallying, with the exception of Germany's DAX, which climbed to an almost seven-week high on Monday, and is now down 0.06 percent at 8,331.50. The Euro Stoxx is up 0.34 percent at 2,725.40, France's CAC has edged up 0.41 percent to 3,941.50.

London's FTSE 100 has dropped 0.11 percent to 6,623.17.

Asian stocks are trading high on Premier Li Keqiang's promise China's economy will not grow any slower than 7 percent. The Shanghai Composite Index climbed 2.2 percent, the Nikkei 225 added 0.6 percent, and Japan's Topix is up 0.3 percent.

Australia's ASX 200 continues its strong July session, and is up 0.05 percent at 5,004.30.