Market buzz: Getting back on track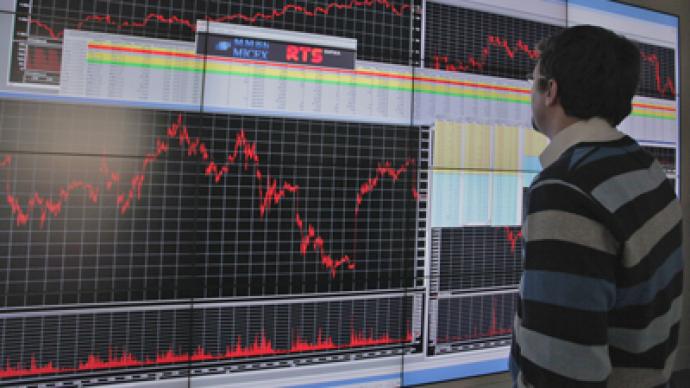 Russian stocks are likely to open in the black on Monday after Friday's correction, depending though on news from European stocks. Global stocks showed moderate growth on Friday.
"Taking into consideration moods at the foreign stocks, the Russian market will try to recover from Friday's correction on Monday, and Russian stocks are very likely to start the day in the black," Yulia Voitovich from Investcafe says. However, Monday's dynamic will be highly dependent on incoming news and European markets' performances.Both key Russian indices finished the Friday session in the red. The RTS was down 0.33% to 1,590.13, and the MICEX declined 0.39% to close at 1519.91. Russia's Transneft was among leaders of the decline, while Sberbank managed to show some growth.  Gazprom lost over 1% on Friday, as investors are still worried about decline in exports and the monopoly's revenue, and the company's preliminary results for 2012 are not optimistic enough.Meanwhile, the Brent price reached its maximum in over than six months on Friday, up to US$118 a barrel, following reports on China's trade balance and decline in production by OPEC countries. At the moment oil price indications show a minor correction, with Brent falling slightly by 0.22% and Light 0.04%.In Europe, the Managers' Index (PMI) for France for December is expected to show 0.3% decline compared to the previous month. And the Monday's euro group meeting, to be attended by International Monetary Fund Managing Director Christine Lagarde, will focus on the economic situation in Greece and financial aid to Cyprus. The finance ministers of the eurozone are also expected to discuss EU monetary policy.
American indices inched up on Friday with DJIA going up 0.35%, S&P500 adding 0.57% and NASDAQ – 0.91%, while major European stocks also showed positive dynamics, with FTSE100 of the UK up 0.57%, German DAX 0.81%, French CAC40 – 1.35%.Markets got a positive lead from the US government, as record petroleum exports helped shrink the US trade deficit in December to the smallest in almost three years. The Commerce Department's figures showed that US trade deficit narrowed to $38.5 billion in December from a revised $48.6 billion in November, versus forecasts for a deficit of $46.0 billion. According to the report, it is the smallest US trade deficit since the $37.1 billion deficit in January of 2010, and it can allow an upward revision to the disappointing Q4 GDP data. The initial report on Q4 GDP showed a 0.1% contraction compared to estimates for an increase of 1.0%.Asian stocks are mostly up in early Monday trading, as Shanghai Composite is going up 0.57%, Hang Seng rising 0.16%, and only the Nikkei 225 dipping 1.8%.
You can share this story on social media: