Ex-JPMorgan traders charged in $6.2bn 'London Whale' case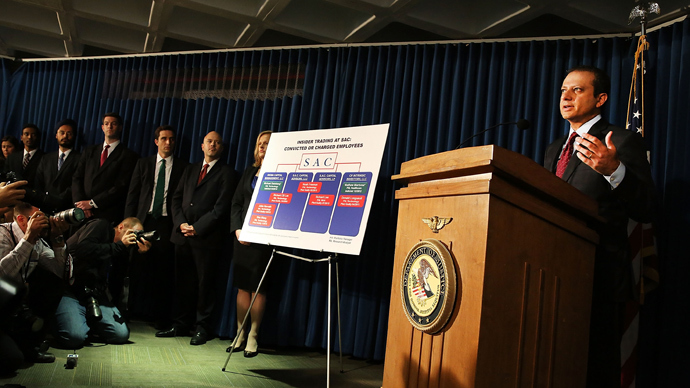 Former JPMorgan Chase traders Javier Martin-Artajo and Julien Grout were charged by US federal prosecutors for manipulating bank records and understating losses in the $6.2 billion 'London Whale' financial debacle of 2012.
In a blow to Wall Street and America's largest bank by assets, prosecutors filed charges against Martin-Artajo, 49, a former London-based managing director and trading supervisor, and Grout, 35, an ex-trader at the London office. 
The two charged men, whose arrest warrants were issued August 9, haven't been located by authorities. Grout, a French national, is reportedly in France, and Martin-Artajo is reportedly on a planned holiday, according to statements from their respective lawfirms.

"The defendants' alleged lies misled investors, regulators and the public, and they constituted federal crimes," said Manhattan US Attorney Preet Bharara at a press conference.

Bharara said, in response to CEO Jamie Dimon's previous comments, "this was not a tempest in a teapot, but rather a perfect storm of individual misconduct and inadequate internal controls."

The pair "knowingly or recklessly, employed devices, schemes and artifices to defraud and/or engaged in acts, practices and courses of business," the complaint said.

The two were charged with conspiracy, falsifying books and records, wire fraud, and registering false filings with the Securities and Exchange Commission (SEC). The SEC is pursuing a separate civil complaint, which will likely result in a hefty fine for the bank, with the employees to be barred from working in the financial industry.

Bosses off the hook

Prosecutors announced they will not charge Bruno Iksil, largely known as a "London Whale" for the extent he cooked the banks' books. According to Bharara, he "sounded the alarm more than once", and as long as he fully cooperates with the FBI and the Manhattan US Attorney's Office, will face no charges.

JPMorgan CEO Jamie Dimon, CIO Ina Drew, and Achilles Macris, who ran the London trading office, and everybody who were part of the 'London Whale' have so far not been legally pursued.

False earnings

Due to the improper conduct by these traders, the bank falsely reported quarterly earnings with the FEC on April 13, 2012, as they were "based in part on false and fraudulent information" from the "London Whale" books from March to May 2012. A third, still anonymous co-conspirator also will be investigated on this charge.

The bank was forced to restate its first quarter earnings, which they re-evaluated and slashed by $459 million, after taking into account the fraudulent derivatives losses.

British authorities are conducting their own separate inquiry into the bank's derivative loss cover up.

The bank's ex-employees allegedly covered up losses when they initially told regulators losses amounted to £8million, when in reality the sum was closer to £4bn. The scandal later became known as the 'London Whale', coined after the location and the magnitude of the losses. 

The world's biggest lenders paid over $20 billion to regulators and individuals in 2012 to compensate for breaking rules and finance manipulation during the financial crisis.

You can share this story on social media: