Japan pokes ballooning debt, hikes sales tax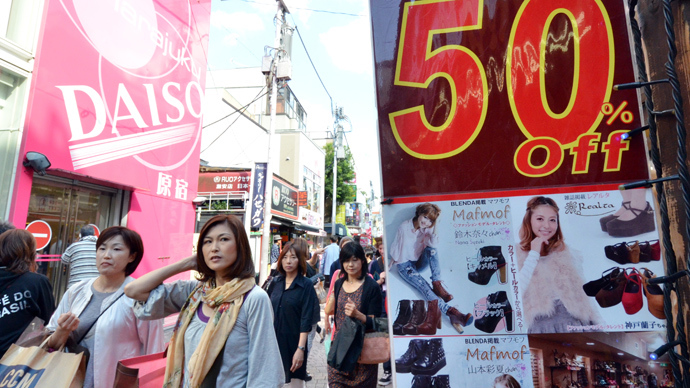 PM Shinzo Abe announced a sales tax hike to 8%, the first increase since 1997 to combat deflation and spur growth. Not to kill consumption, Abe has promised stimulus measures, which will hopefully cut the world's biggest quadrillion yen debt.
Japan's sales tax will jump by 3 percentage points to 8 percent in April, and then increase to 10 percent by October 2015. This adds consumer pain to corporate pain as the country already has one of the highest corporate tax rates in the developed world  - at 38 percent. 

To counterbalance the initial pain of the increased sales tax, a short-term buffer stimulus of $51 billion (5 trillion yen) will be introduced, Abe said. The cash stimulus will also include handouts for lower-income households.

Additionally, the government announced 10 billion (1 trillion yen) to be available for business.

"Fiscal stability is something positive for the country as well as companies over the medium- to longer-terms," Kazuo Hirai, chief executive of Sony Corp said, the WSJ reported.

On top of that, there will be tax breaks valued at 1 trillion yen for companies making capital investment and wage increases.
Abe sees the tax rise as a necessary step for long-term economic stimulus, but understands the dangers of raising tax without providing a stimulus safety net.

"I am convinced that the economic-policy package we decided today is the best option for that purpose," Abe told reporters at a news conference on October 1.

The world's third largest economy has an outstanding public debt of $10.46 trillion, twice the size of its GDP, according to June 30 figures. The quadrillion yen debt is 'safer' than America's for example, because over 90 percent is domestic and tied to the yen.

The 'Abenomics' policy of aggressive monetary stimulus and spending seems to have taken off, seeing the economy strengthen considerably since Shinzo Abe took office in December.
The 'third arrow' of 'Abenomics' was announced early in June, in which Japan would raise incomes by 3 percentage points each year and set up a special economic zone to boost foreign investment.
The other two 'arrows' include government spending and the Bank of Japan's plan to reach 2 percent inflation by pumping money into the economy.

Tokyo playing host to the 2020 Games could send positive shock waves through the economy, but could very well bankrupt it along the way and add to the world's heaviest debt burden.

You can share this story on social media: